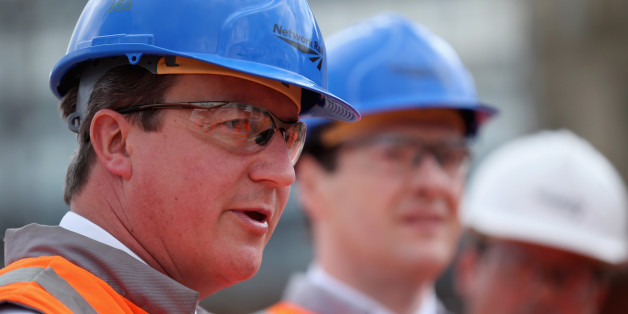 Christopher Furlong via Getty Images
David Cameron has welcomed official figures showing that the number of unemployed Britons has fallen below two million for the first time since 2008.
However, the prime minister seemed to overlook other figures out today that revealed inflation is still growing faster than wages, meaning that Britons' pay packets are still shrinking in real terms.
Writing on Twitter, Cameron said the Office for National Statistics' latest unemployment data, revealing that the unemployment rate fell to 6%, showed that the coalition's plan was "working".
The biggest-ever fall in unemployment in history, taking it below 2m, is great news. Our plan is working, but there's still much more to do.

— David Cameron (@David_Cameron) October 15, 2014
The number of people out of work fell by 154,000 in the quarter to August to 1.97 million, while the number of people claiming jobseeker's allowance last month fell by 18,600 to 951,900. These figures will be a well-timed political boost as Cameron prepares to face Ed Miliband at prime minister's questions today.
However, experts pointed out that the good news was undermined by the continued evidence that the pay squeeze was not over. The ONS said that wages grew by just 0.7%, which is still outpaced by the Consumer Prices Index (CPI) measure of inflation, which soared by 1.2%.
See also:

Here's Why You're Actually Earning Less (Despite What Your Pay Slip Says)
So UK real wages continue to shrink as growth of 0.7% is behind the 1.5% CPI was in August and the 2.4% RPI was.

— Shaun Richards (@notayesmansecon) October 15, 2014
Warren Ruhomon, a senior market analyst at the Finspreads website, told the Huffington Post UK: "Earnings growth remains some way off inflation, at 0.7%, which continues to hamper consumer spending power."
"In effect, the average price increase of goods and services is more than the averages wages each person takes home, meaning real earnings growth gets squeezed. Both of these factors remain a significant area of concern."
Others pointed out that wage growth was, at least, rising gradually. Jeremy Cook, chief economist at the foreign exchange company, World First, said wage growth was going in the "right direction".
He added: "Real wage increases - while far off at the moment - represent a silver bullet for the global recovery."