Bill Turnbull was seen turning on the ol' Turnbull charm during Tuesday morning's 'BBC Breakfast', with the conversation between the presenter and weather forecaster Carol Kirkwood taking a surprisingly saucy turn.
SEE MORE:
Bill Turnbull: 'Susanna Should Ignore Critics'
BBC Breakfast's Charlie For 'I'm A Celeb'?
After Carol presented the weather that day in a figure-hugging red dress, Bill couldn't resist making a comment about her tightly-packed "isobars".
When she was finished giving the daily forecast, Bill remarked that he'd been taking "a great interest" in her "isobars", joking: "Would you say they were tightly packed?"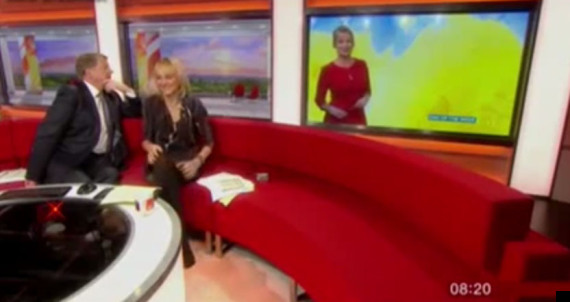 Bill Turnbull asks Carol Kirkwood about her 'tightly packed isobars'
Who could resist a line like that, eh?
*hums Sade's 'Smooth Operator'*
Ever the professional, Carol playfully responded: "They are quite tightly packed, yes. There's a nice big squeeze going on", which is hardly what you want to hear while you're tucking into your morning cornflakes is it?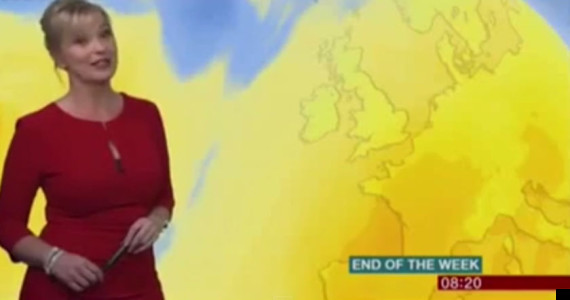 Carol presented the weather that day in a red dress
Of course, we're almost getting used to blushing mid-way through our daytime telly now, but it's usually courtesy of Susanna Reid over on ITV's 'Good Morning Britain', who has dropped a number of hilarious clangers in recent memory.
First of all, she was left obliviously wondering why the 'GMB' crew found it so funny when she asked former 'Downton Abbey' actor Dan Stevens if he'd had to "beat off a lot of men" in order to land his recent film role, and later flirted up a storm with 'Dracula Untold' star Luke Evans, who playfully "bit" her neck in the middle of an interview.
Meanwhile, in slightly less mature news, Susanna was left trying - and failing - to hold in her laughs earlier this week when the 'Good Morning Britain' sofa made a rude noise in the middle of a chat with Richard Arnold.
LIKE US ON FACEBOOK | FOLLOW US ON TWITTER