David Cameron has given his strongest hint yet that he is ready to campaign for a British exit from the European Union, warning he is having "one last go" at negotiating better membership terms. The Prime Minister indicated that reclaiming control over the UK's borders would be at the heart of his bid to get a better deal, arguing the system has "not been working properly".
Mr Cameron has been coming under intense pressure from Tory backbenchers to take a tougher line with Brussels, and there is mounting speculation he will set out details of his "red lines" before the crucial Rochester and Strood parliamentary by-election triggered by the defection of Mark Reckless to Ukip.
The Conservative leader - who has promised his MPs a "big bang" announcement on immigration - is thought to be considering options such as an "emergency brake" mechanism to curb numbers from Europe, an Australian-style points system or a return to work permit quotas.
However, he may have trouble obtaining such significant concessions from European counterparts before the mooted in-out referendum, scheduled for 2017 if he is still in power. European Commission spokeswoman Chantal Hughes reiterated that free movement of labour was a "fundamental principle" of the EU. "It's enshrined in the treaty. It constitutes also an essential part of the single market," she said.
Answering questions during a campaign visit to Strood, in Kent, Mr Cameron said: "We need further action to make sure we have more effective control of migration. We should have one last go at negotiating a better deal." He added: "I think we need to be clear that the immigration system hasn't been working properly.
"Greater control is required, but fairness should be at the heart of it. People recognise that Britain is an open, tolerant country, but immigration in recent years has been too high... Of course it is one of the most important issues in this election. We will be setting out further steps in the weeks ahead."
Downing Street insisted "no final decisions" had been taken on what changes the Government could seek. "The Prime Minister has already been clear that he recognises people have concerns about migration from the EU and that he intends to address these as part of reforming our relationship with the EU," a spokeswoman said. "There is speculation out there about how and what the Prime Minister might do on that. No final decisions have been taken."
The spokeswoman said Britain's concerns about the impact of free movement were reflected in other EU countries. "There are a number of debates taking place in other countries about immigration," she said. "We have seen a growing debate in Germany and some Scandinavian countries about the impacts on welfare. There are other countries suffering from concerns about youth unemployment worrying about young people leaving.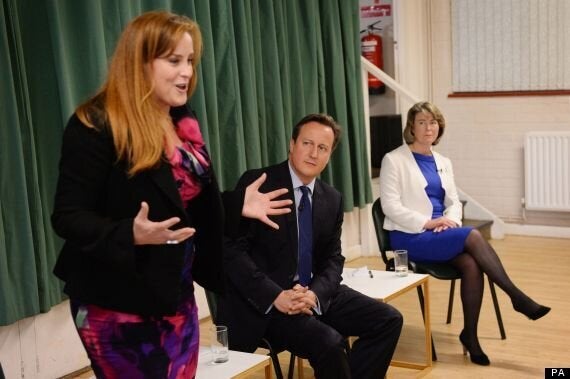 Prime Minister David Cameron at Wainscott Memorial Hall in Rochester as he introduces to members of the general public, the Conservative Party's two applicants, Anna Firth (white jacket) and Kelly Tolhurst
"There is an increasing debate about immigration and the impact of it in communities across Europe and the PM is saying that he gets that that is a concern for people here and he is going to address it." Ukip migration spokesman Steven Woolfe said Mr Cameron was "running scared" of Ukip, which has surged to a record 19% in the polls on the back of its success in securing its first elected MP with Douglas Carswell's victory in Clacton. The same poll, by YouGov for The Sun, put Labour and the Tories on 33% and 31% respectively - the lowest combined score for the two main parties in this Parliament so far.
"This is hot air from a cold, hard, calculating politician whose interests are saving his own skin and not the jobs of the British people," said Mr Woolfe. "With this latest PR trick he is seeking to pull the wool over our eyes for he knows in advance that the EU will never restrict free movement of European migrants."
Deputy Prime Minister Nick Clegg said Mr Cameron and his party were "in a complete blind panic" and a "total flap" about Ukip. "No Conservative has put any proposals to me, they haven't breathed a word of this within Government," the Liberal Democrat leader told LBC Radio.
"The Conservative Party has got a fundamental problem. They are running after Ukip in a complete panic." He added that the Conservatives would "become interchangeable with Ukip" if they continued with the tactic. "This constant shilly-shallying, where every week they say, 'We'll edge a little bit closer to Ukip', I think is a disastrous political strategy," he said.
Tory former minister John Redwood said he would welcome a strong message to Brussels on immigration. "If the EU wants to keep the UK in, it will have to allow us to do this. If it doesn't want to keep us in, then the British people won't be given these powers and they will simply vote to leave the union," he told BBC News.
Matthew Elliott, chief executive of Business for Britain, which campaigns for fundamental reform of the EU, said: "The PM has to secure changes to freedom of movement as he knows otherwise the public will simply vote 'Out' come what may in an EU referendum."
But Mats Persson, director of the Open Europe think tank, warned: "David Cameron needs to be careful not to talk up what he can achieve on EU migration in Europe, not least since Ukip can always move the goalposts. An emergency brake on numbers will be very hard and risky but may just be possible to achieve if that's the only thing Cameron goes for, given that there are precedents for other areas in the EU treaties.
"A points-based system would be an extremely difficult task, involving fundamentally rewriting the EU treaties. Cameron should also point out that EU free movement does come with benefits." Labour immigration spokesman David Hanson said: "We will examine any real proposals the Government comes forward with to manage immigration with interest.
"We do need reforms to the free movement rules, which is why Labour has already put forward practical plans to stop people travelling to claim benefits, deport people who commit crimes, and stop employers undercutting local jobs and wages with cheap migrant labour. We want to see fair movement not free movement.
"But instead of practical plans, David Cameron is briefing vague promises to stave off panic and revolt from his Eurosceptic backbenchers when instead real action is required."