Apple has followed up the launch of the 2014 iPad Air with an all-new iPad Mini.
The new model has an upgraded display, is faster and boasts a number of new features, including a Touch ID fingerprint scanner.
But like the larger model, the 7.9 inch Mini is still essentially an iPad, running iOS 8, and only as good (or great) as the apps you choose to run on its full-screen interface.
The announcement was made at a press event in California, relayed to the Kurfürstendamm Apple Store in Berlin.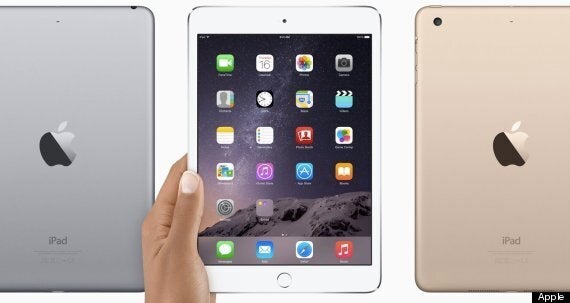 Touch ID
A7 64-bit processor
Double-Speed WiFi
9-hour battery life
5MP iSight camera
So once again things are staying the same with Apple's Retina Display, instead the company has focused on the screen with the new ionised screen technology now making its way over from the iPhone 6 to the iPad range.
Apple's keeping things very similar with the design of the iPad Mini, there's no reduction in size or weight suggesting that the company will look to make a larger change to the tablet next year instead.
The iPad Mni 3 is keeping the same processor as the last iPad Mini which means while it won't be as fast as the new iPad Air 2 it will still offer a 64-bit processor which should keep things running as smooth as you'd expect.
The iPad Air 2 will launch with iOS 8.1 which features a number of key changes to iOS 8 including the return of the Camera Roll and big improvements to HealthKit.
It also signifies the beginning of 'Continuity', Apple's software and hardware feature that'll allow you to start work on your iPad and then pick it up exactly where you left off on your iMac.
The iPad Mini 3 has a 5MP iSight camera on the rear and will launch with some of the new camera features found in iOS 8.
The new iPad Mini follows last year's complete redesign of Apple's tablet, which at the time we praised as the best touchscreen computer ever made.
That's why this year's iPad probably looks so familiar. It runs the same iOS interface, and has many of the same features that you'll already have if you own an older iPad.
The new machines will be out next week, and will retain the basic pricing structure of the previous generation iPad Air.
The 16GB model starts at £399 (WiFI only) and adds £80 for each upgrade through 64GB (£479), 128GB (£559).
The 4G version simply adds £100 to each of those prices, plus the cost of your mobile service contract or bill.