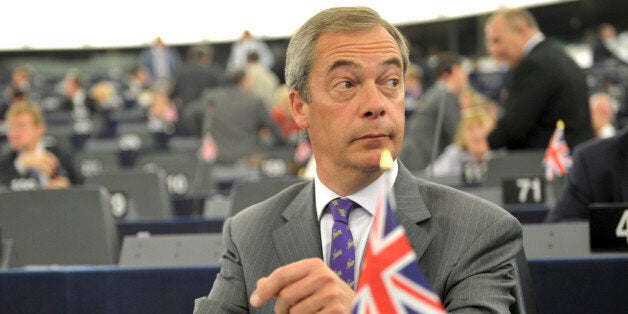 Ukip's group in the European Parliament has collapsed after one of its MEPs decided to leave and become an independent.
The Conservative Party said it showed that Nigel Farage's insurgent party, which is threatening to snatch a second Westminster seat from the Tories in November, "can't change a thing in Europe".
Farage formed the Europe of Freedom and Direct Democracy (EFDD) group with other eurosceptic European political parties. It includes Italy's Five Star Movement and the far-right Sweden Democrats.
On Thursday Latvian MEP Iveta Grigule announced she was leaving the EFDD. Her withdrawal renders Farage's group illegitimate as it no longer has MEPs from at least seven EU countries.
Groups in the European Parliament are formed to secure positions on committees, secure speaking time and receive funding. The collapse of the group will also deny Farage, its leader, the chance to make long speeches on the floor of the parliament.
In a statement to The Huffington Post, the Latvian MEP's office said: "We can confirm, that Ms Grigule has submitted today an application to President Schultz in order to become as independent MEP." However a reason for her decision was not given.
A Conservative Party spokesman said: "This is further evidence that, as Nigel Farage himself has admitted, Ukip can't change a thing in Europe. They stand on the sidelines shouting but have no plan, no influence, and now have no group.
"It is only the Conservative Party that has a credible plan to reform the EU and then to give the British people a say on our membership, and it is only the Conservative Party that can deliver on this plan".
Ukip is set to lose £1 million in funding following the collapse of its group. When it was formed earlier this year, Farage said he expected it to grow, rather than dissolve.
"We have struggled against much political opposition to form this group and I am sure it will operate very well. Now it is formed I expect other delegations to join soon," he said.
Popular in the Community