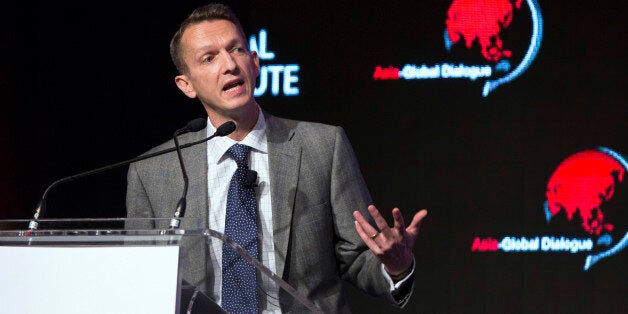 The Bank of England's chief economist has raised eyebrows by suggesting that interest rates could stay lower for longer as the economy is "writhing in both agony and ecstasy"
Andy Haldane, delivered this assessment in a speech on Friday morning to businesses in Kenilworth, Warwickshire, as he outlined how his outlook for Britain's economy has become "gloomier".
His fruity assessment of the economy did, however, cause some to suggest it was a "bit much" and rather "saucy".
Haldane said that Britain was in "fine fettle" by some measures, pointing out that it enjoyed the strongest growth of the G7 nations and unemployment falling from 8.4% to 6%.
However, he said, there were "reasons to be fearful", pointing out that real wages have been shrinking for "all bar three of the last 74 months" and productivity is still as high as it was six years ago.
This outlook is "virtually unprecedented going back to the late 1800s, with the exception of the aftermath of the world wars and the early 1970s," he warned. "This has been a jobs-rich, but pay-poor, recovery."
Pointing to the global slowdown in growth, burgeoning political and financial risks and lower inflation, Haldane said: "This implies interest rates could remain lower for longer, certainly than I had expected three months ago, without endangering the inflation target."
The question of when the central bank will finally raise rates has been a subject of mounting speculation, with expectations that the first rate rise could happen next spring.
The timing has drawn concern as it is feared some borrowers would not be able to handle having he size of their mortgage and loan repayments increase.
Ross McEwan, chief executive of the Royal Bank of Scotland, told a banking industry conference on Thursday that he was aiming to speak to customers to assess how ready they were for the first interest rate rise in years.
"When you consider that we haven't had a rate rise since 2007 and that half our mortgage customers have never experienced a rate rise with us, and there are over 1.45 million borrowers who have bought a house and never experienced a rate rise, you can understand where the anxiety comes from," he said.
Popular in the Community