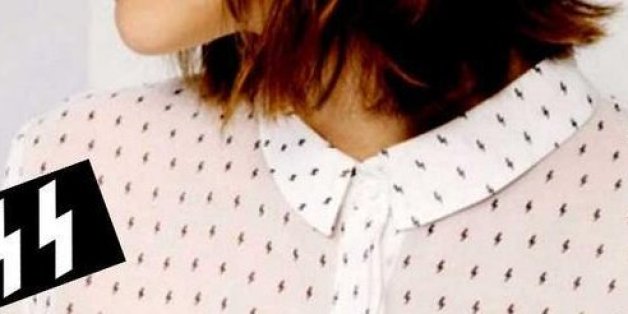 Mango
A fashion chain has been forced to apologise after being deluged with complaints about a blouse featuring a pattern associated with the Nazis.
Critics say the design for the "Lightning print shirt" sold by Spanish fashion giant Mango resembles the "Siegrunes" worn by the Hitler Youth and the paramilitary Waffen-SS.
Mango was accused of a "massive design fail" by stocking "Nazi chic" with its "SS patterned blouse", with one Twitter user acidly describing it as part of the "Eva Braun collection".
Epic #design fail @Mango @inditexgroup - new shirt with Nazi SS symbol print. Must be SS 2015 latest trend :D http://t.co/itWKwCm2vP #fb

— Jacques Frisch (@Jacques_BCN) October 16, 2014
Mango has the prefect ladies' item for the obedient wives of the religious right: AN SS PATTERNED BLOUSE!

Be the... http://t.co/9Y3W6Em9Ig

— Brian Foulkrod (@BrianFoulkrod) October 16, 2014
.@Mango goes "Nazi chic" pic.twitter.com/v1oyHjIrna

— Nathalie Rothschild (@n_rothschild) October 17, 2014
Kennt ihr schon die Eva Braun Kollektion von Mango? http://t.co/6KRlgHrsLw

— Muffinman 머핀맨 (@MuchosMuffins) October 16, 2014
In response, Mango pointed out that the blouse was part of a broader range, with others featuring stars and hearts. The chain said on Twitter that it "regretted" the connotations of their controversial design.
@DeModaLV MANGO lamenta la asociación del diseño de esta camisa.

— MANGO (@Mango) October 17, 2014
@DeModaLV @LaVanguardia Siguiendo esta línea se encuentran la camisa de estampación con rayos, corazones y estrellas. pic.twitter.com/RNMHpLHE0u

— MANGO (@Mango) October 17, 2014
Mango is not the first fashion company to be accused of stocking items eerily reminiscent of Nazi regalia. Fellow Spanish fashion chain Zara was forced to pull a striped shirt featuring a "sheriff" star after people suggested was reminiscent to the clothes worn by Jewish concentration camp prisoners.
See also: Zara Pulls Striped 'Sheriff' Shirt After 'Holocaust Design' Outrage
In 2007, the firm withdrew a handbag from its stores after a customer noticed that its design featured swastikas.
The fashion chain said the bag had come from an external supplier and the symbol was not visible when it was selected. The £39 bag, which had four green swastikas at each corner, also featured flowers and bicycles.