A Ukip win in Rochester and Strood could trigger defections from Labour and Tory MPs, Douglas Carswell has hinted.
The former Tory, who became Ukip's first elected MP after his landslide win in the Clacton by-election, said politicians in both of the main parties were reflecting on their positions ahead of next May's general election.
Fellow Tory defector Mark Reckless hopes to return to the Commons as the MP for Rochester representing his new party in the November 20 contest, but the Tories are mounting a major effort to halt the Ukip bandwagon.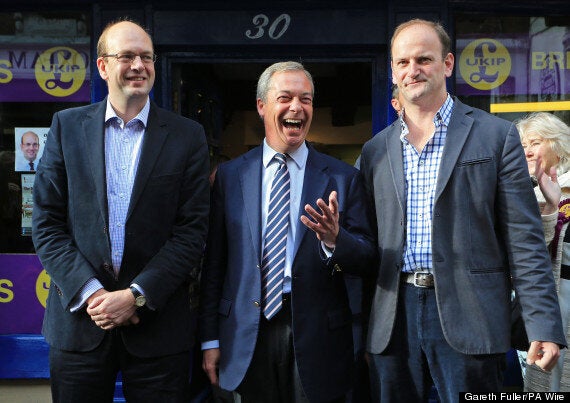 Ukip leader Nigel Farage (centre) and newly elected Ukip MP Douglas Carswell (right) joins their party's candidate Mark Reckless on Rochester High Street, Kent, as they join him on the campaign trail for the upcoming Rochester and Strood by-Election
Mr Carswell, who was met with silence from his former Conservative colleagues as he returned to the Commons, said it was clear that MPs from the two main parties were "thinking about their future".
He said that if Ukip won in Rochester and Strood then the "silent, reflective doubt" would become "something far more kinetic and animated and urgent".
But he said that Ukip had to maintain a sense of perspective following his landmark win.
Speaking to BBC Radio 4's Week in Westminster, Mr Carswell reflected on his return to the Commons: "There was silence, I wouldn't describe it as icy silence, I think a lot of people on both sides were a little uncertain.
"There's change coming to politics and I think a lot of them sat there and were thinking about what the future holds for them personally in six months' time."
Asked if former colleagues had indicated they were tempted to join him, he said: "It's clear from conversations I've had that some people are thinking about their future ... on both sides.
"I think a lot of people are thinking 'is this a re-run of the SDP or is this perhaps something fundamental and profound. I have to keep reminding myself that, actually, it's neither.
"So far we have won a single seat, we need to keep a sense of perspective.
"It's also important to mention that, actually, attention isn't really on me any more, attention is on Rochester.
"If Ukip wins Rochester, and I think we can - it's going to be tough - but if we win Rochester then I think much of that silent, reflective doubt will become something far more kinetic and animated and urgent."
Mr Carswell, who has been allocated a windowless office in the Houses of Parliament by the Tory whips, said it felt "very different" being back in the Commons.
"The real story is how friendly my former colleagues have been," he said, although there were "one or two people in the whips office who are little bit huffy and petty".
Mr Carswell's comments come as Ukip leader Nigel Farage claimed that the forthcoming poll is "the most important by-election for 30 years".
Speaking on a visit to the Kent constituency, Mr Farage said: "This is a very serious, important by-election.
"The result of this matters a lot and that's why the Prime Minister was saying things yesterday we haven't heard him say in the nine years he has led the Conservative Party."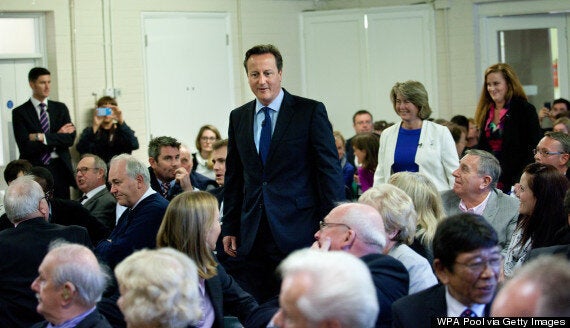 David Cameron arrives with the Conservative Party's two applicants councillors Anna Firth (C) and Kelly Tolhurst (R) for their nomination in the upcoming Rochester and Strood by-election
The eurosceptic party leader was surrounded by fans during his walkabout on Friday, while Reckless was left relatively in the shadows, reporters at the scene described.
"I feel like I'm famous," said one woman as she and two friends posed giddily for a photograph with Farage as though they had chanced upon a music or film star on the local high street.
David Cameron has signalled his determination to halt the Ukip bandwagon at Rochester and has ordered all Tory MPs to make at least three campaign visits to the Kent constituency - and Cabinet ministers at least five.
But Farage has said "Rochester is high noon for Cameron," adding that "he'll face a leadership challenge if he loses."
Writing in the Daily Express, the Ukip leader said if Rochester "were to turn purple, the PM may well be handed 46 backbench signatures tolling the end of his political career.
"It really is an existential by-election, both in the sense of a catalytic schism that could break UK politics in two but also in pitching performance politics against politics proper."
The Prime Minister made his first campaign visit yesterday, addressing a town hall meeting in Strood.
In a clear pitch for eurosceptic voters who might be tempted to join Farage's "people's army", Cameron insisted that only he could deliver an in/out referendum on Britain's EU membership after having "one last go" at negotiating a better deal for the UK.
Farage said it was the most crucial by-election since Roy Jenkins fought for Hillhead, Glasgow, in 1982.
"It's important because for Ukip we've got momentum and we want to keep it going," he said. "This seat is apparently the 271st most winnable seat for us so if we can win...wow...we are in a very different place."