The Prime Minister could use a cap on the number of national insurance numbers issued to low-skilled migrants from European Union countries, The Sunday Times reported (£) today.
But Jose Manuel Barroso said he believed any arbitrary cap would be incompatible with EU rules and stressed the importance of the freedom of movement principle.
Speaking on The Andrew Marr Show, he added: "In principle, arbitrary caps seem to me... in contradiction with EU rules.
"That's quite clear from my point of view.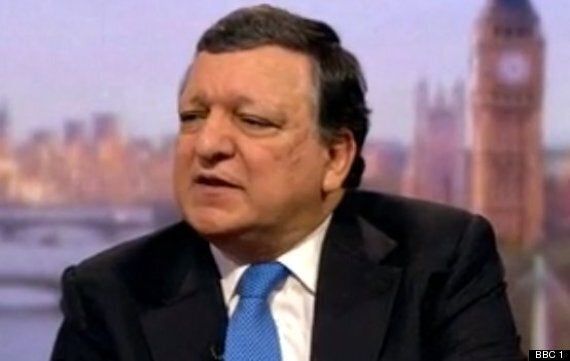 Jose Manuel Barroso told Andrew Marr 'arbitrary caps seem in contradiction with EU rules..'
"Having said that, full support to all ways of suppressing abuse of benefits because they are against in fact the spirit of our legislation.
"We have to address the abuse cases. I think it is very important to be determined to repress any kind of abuses because there are some kind of abuse of benefits. That is a good point.
"But put in question of principle, I don't think it is good."
He also criticised the comment by Foreign Secretary Philip Hammond last week that Britain was "lighting a fire under the European Union" by holding an in-out referendum on membership.
Mr Barroso went on: "I'm told the Foreign Secretary was the former minister of defence. I think this reference to fire and weapons is more appropriate for defence than foreign secretary.
"It is very important to have a positive tone regarding these issues between Britain and the EU.
"My advice to all the members... is to have a constructive dialogue, a proper tone."
He said there was a willingness to constructively discuss the UK's concerns and insisted the UK would wield more influence on the world stage from within the EU than outside it.
"He (David Cameron) knows well that without the EU, Britain will have less influence," he said.
Cameron's push to reform Britain's relationship with the EU has been seen as part of the Tories' fight to regain voters they have lost to Ukip - insisting that voting for the eurosceptics will usher in a Labour government.
Next May's general election would be "the most important for a generation", Cameron said in an article for the Sunday Telegraph, telling voters it would be a straight contest between him and Mr Miliband to run the country.
"Let no-one deceive you that there is a third way. A vote for Ukip is a vote for Labour," Cameron wrote.
"That much was proved in the recent by-elections. In Clacton, previously a Conservative seat, Ukip won. In Heywood and Middleton, Labour held their seat.
"And to those considering voting for Ukip on the issues of immigration and Europe, I would point you to our Conservative record.
"Non-EU migration is now at its lowest levels since the 1990s - and we are committed to putting EU migration right at the heart of our negotiations in Europe.
"That comes from the first British prime minister ever to veto an EU Treaty, get the European budget cut, and pull us out of the bail-out schemes that Labour signed us up to.
"We have also pledged to scrap Labour's Human Rights Act, ending the era of farcical human rights rulings handed down from Europe. And never forget: it is only the Conservative Party that is offering you that in-out referendum on Europe in 2017.
"There would be a terrible irony if people who care about these issues voted Ukip - making a Labour Government more likely."
Cabinet minister Justine Greening said free movement of labour was "never meant to be a totally unqualified principle".
The International Development Secretary told Sky News' Murnaghan programme: "Although we have managed to bring non-EU migration levels down to the lowest level since the 90s, we do need to see action taken in relation to immigration that's within the EU.
"That means taking a fundamental look at some of the rules that allow unrestricted immigration in a way that we don't think is sensible."
Asked about the national insurance proposals, she said: "I think the Government is looking at a whole range of ways in which we could see the European policy around migration work more effectively, but also what we can do right here in the UK as well."