When Channel 4 News set up a rare interview with actor and director Richard Ayoade, we're not sure if they got what they bargained for.
Presenter Krishnan Guru-Murthy spoke to Ayoade, who reportedly hates interviews, supposedly to ask him about his new book, in which the IT Crowd star interviews himself.
"If you were asking yourself a question right now, what it would be?" asked Guru-Murthy to open the chat.
Over the next four minutes, Ayoade proceeded to throw Guru-Murthy's interview questions off course with a series of off-topic, deadpan answers.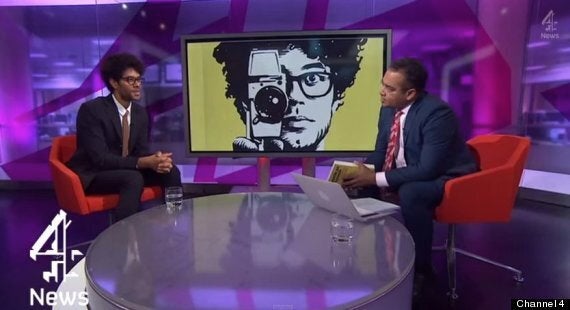 "The book's a comic book about film really, it's not a deconstruction of the idea of interviews," Ayoade claimed.
"So it's not about Richard Ayoade at all?" pressed Guru-Murthy.
Ayoade - who is half Nigerian and half Norwegian - then avoided Guru-Murthy's attempts to get him to clarify whether he felt a responsibility to champion black people in the entertainment industry.
When Guru-Murthy approached the issue by jokingly asking if Ayoade felt like a role model for Norwegians, the star responded in a deadly serious tone: "I do, and I feel that Norway as a nation looks to me and my activities, in many ways to marshall any kind of policies they can drum up, and have been doing so for a while."
He also set the record straight on his reported dislike of interviews: "I don't dislike interviews, it's a bit more like commuting. I accept it as a part of this, but no one, you know, loves it."
"I get that. But give me something in return…" replied Guru-Murthy.
When Guru-Murthy thanked him at the close of the interview, Ayoade said, quite honestly: "Don't thank me, I've done nothing for you."
Ayoade also brought up Guru-Murthy's infamous heated interview with director Quentin Tarantino in 2013.
In it, the Pulp Fiction director refused to discuss a possible link between violence in films and in real life, with the words: 'I'm shutting your butt down!'