A8X processor
Improved, less reflective screen
8-megapixels camera
18% thinner than the iPad Air
TouchID sensor
When I first learned that the new iPad Air 2 was a slightly thinner, more powerful version of the iPad I already reviewed (and loved) last year, I'll admit I was disappointed. It wasn't that the new iPad Air seemed like a bad product. Obviously it isn't - it's the same great taste in a marginally better package. It's just I couldn't see how the new iPad would actually change my life in any significant way compared to the old model.
Because what occurred next was an incident of such improbable drama that - had it not happened to me - I wouldn't have believed were possible.
And yes, it also proved that the new iPad Air 2 is a fine upgrade, and well worth your money.
Especially if aliens invade.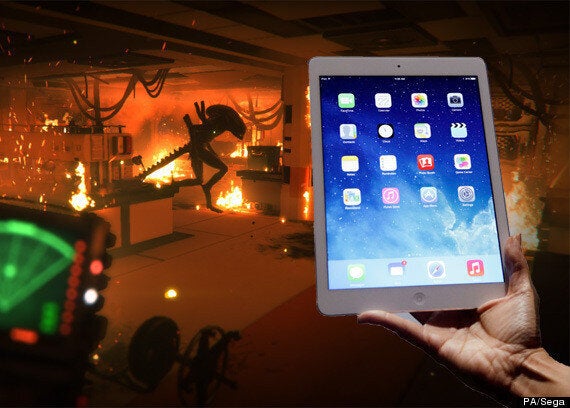 It all began on Wednesday morning. The new iPad Air 2 arrived at the office, and while I had already benefitted from an extensive hands-on at last week's Apple event, I was still excited to get hold of it for real, download some apps and start using it to, you know, watch Amazon Prime and stuff.
I opened the iPad, taking off the familiar shiny wrapping and examining its new, gold curves and sharp edges. But as I did so, I was so bewitched that I accidentally wandered into an open door on the other side of the office.
Looking up, I found myself in what appeared to be a dark, small chamber with about an inch of sticky water on the floor. Just then the door clicked shut, and the walls began to whirr.
"Help!" I cried, as the room began to shake, and the water began to rise around my ankles.
What was happening? It took me a moment to boot up the iPad - though not long, that A8X processor is fast - and to use the light of its bright, sharp screen to illuminate my surroundings, but soon I knew: the walls were closing in around me. I must have wandered directly into the new office-based trash compactor installed only that morning - we'd received an email about it, but with only the inferior notifications tray of my old iOS 7-based iPad to hand, I must have missed it!
I had only seconds to figure out how to get a message to the rest of the office to open the door. I considered the usual channels - Twitter, email - but I knew it would never reach them in time. All I could do was try to slip a message through the door. But even as I thought it, I despaired: yes, I could easily write a message on the iPad Air 2 using Paper by FiftyThree and its excellent new pressure-enabled drawing tools. As I did so I happily pondered how the iPad still benefits from a market-leading selection of apps - it really is an advantage over similarly specced Android competitors.
But message written, I again fell into a sudden despair: surely there would be no way an iPad would fit through a heavy trash-compactor's door frame - which as we know is a standard 6.2mm thick?
But then I remembered: this thing is thin. Really thin. In fact, at 1.4mm (18%) thinner than the old iPad Air, it comes in at exactly 6.1mm. It's light, rigid and high-quality in the hand. It was also just thin enough to slip through the door of the trash compactor in time to get a message to my co-workers and save my life. Phew!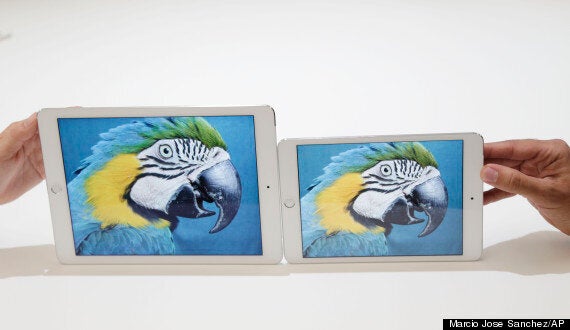 As soon as I stepped out into the office, however, I just knew something was wrong. The lights were flickering, and the office was quiet and empty. I could just make out a red stain on the stairs, and hear a distant sobbing somewhere below.
I pulled up my iPad to take a picture using the excellent new 8-megapixels f/2.2 aperture camera, knowing that the police would need as much evidence as possible. The shots it produced of the bloody crime scene were clear and sharp, even in low-light.
Then suddenly there was a flash of dark green and steam in front of me. Stunned, I waited in the dark, just managing to switch to the new iPad Air 2's slow-motion video option, which I knew was capable of up to 120 frames per second. Aiming it in the direction of the beast, I pressed record. Seconds later, there was another flash. But reviewing the video on the iPad Air 2's excellent 2048x1536 pixels screen - easy, even in the flickering light of the half-destroyed office thanks to its new laminated surface and reduced reflection levels - I could see my enemy clearly.
It was hard to believe, but there was something here with me. Something alien, something inhuman, but something I felt, instinctively, was beatable.
Uploading the video and stills to Twitter was quick and simple thanks to the iPad Air 2's improved WiFi and LTE performance. Even in my heightened state, I also remembered to turn on and configure the TouchID fingerprint sensor (new this year) so as to ensure the vital data could not be deleted by any government 'clean up' team dispatched to remove the evidence of this alien invasion after the fact.
Now it was just me, and it. The alien, hunched in front of me, stirred in its sweet-smelling steam, its strong haunches and bared teeth easily over-matching even my wits, cunning and market-leading tablet technology.
But before battle commenced, I once again took a moment to appreciate the new iPad Air 2's refined curves and design details that still set it apart from the rest of its peers. And who could forget, even in the heat of that moment, how impressive it was that Apple has managed to build a mercury-free, arsenic-free, BFR, PVC and beryllium-free tablet that still comes in at just £399 for a standard 16GB, WiFi-only config?
It was time. The alien rocked back and forth, and I cleared my mind.
But just as it pounced, the office erupted. All at once dozens of my co-workers, who I had assumed were dead, attacked the beast with what I could just see were also iPad's - albeit thicker, sturdier, less-well-equipped models. I saw iPads original, 2, 3 and 4 all smashed apart on the alien's razor-blade shanks. Glass shattered, aluminium bent like soft butter. It was a scene only truly appreciable in timelapse - again, included in the iPad Air 2's all-around excellent camera package. Yes, I looked a bit silly lifting this large device to record the images amid the scenes of devastation, but the quality was high enough that I just didn't care.
Once it was dead, I embraced my saviours, still mourning their broken iPads. I could tell that even in their euphoria to be alive, part of their minds were on the question of which iPad to upgrade to next.
For while the iPad Air 2 is clearly the superior model - and a big jump from any iPad prior to last year's Air - with its predecessor still available at a lower price point surely it too is a decent buy?
That is a question only they can answer. My gut tells me that if your iPad is two years old and you want an upgrade, get the newest one. But if you don't own an iPad yet already, the iPad Air classic is also acceptable.
For me, however? I was just glad to be living. And I knew, standing there, dripping in acid, blood and diminishing fear, that I would not have made it were it not for the stand-out performance, slight but clear physical upgrades and overall excellent production values of the iPad Air 2, the best tablet for Christmas 2014 and also an alien invasion.