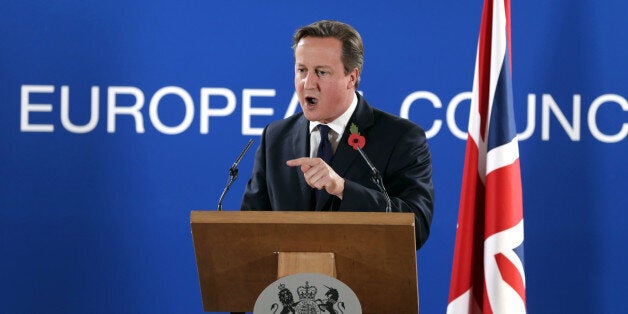 The shock demand by the European Commission that Britain stump up an extra £1.7bn to Brussels is a "lethal weapon" that puts the UK's membership of the European Union at risk, David Cameron has warned.
A visibly angry Cameron told a press conference following a meeting of European leaders on Friday afternoon that he would not pay the bill by the deadline of 1 December. "It is not happening," he said bluntly. "This is a completely unacceptable. It is an unacceptable way for this organisation to work, to suddenly present a bill like this for such a vast sum of money."
The prime minister said it did not matter whether George Osborne and Treasury knew about the bill days earlier than he did, as the villain was the commission and the UK was the victim. "You don't need a Cluedo set to work out who got clubbed with the lead piping in the library," he said.
The surprise budget demand from EU officials could not have come at a worse time for the prime minister, as the Conservatives battle to prevent Ukip winning the Rochester by-election next month.
The surcharge - which would add almost a fifth to the UK's annual contribution of £8.6bn - is intended to reflect Britain's better-than-expected economic performance relative to other EU states. Several other EU states, including Italy have also been presented with a bill. While other large EU nations, including France and Germany, would get money back.
Speaking to reporters in Brussels, Cameron took the unusual step of revealing what the Italian prime minister, Matteo Renzi, had told commission officials during a private meeting of Europe's leaders earlier today. "People have got to understand this isn't a figure, this is a lethal weapon," Cameron said Renzi had warned, before adding: "When people produce a lethal weapon like this, don't they understand it leads to people across Europe thinking the EU commission consists of technocrats and bureaucrats without a heart or a soul."
Asked whether the politically toxic demand from Brussels would make British voters more likely to choose to exit the EU in any referendum, Cameron said: "Is that helpful for Britain's membership of the EU? No its certainly not."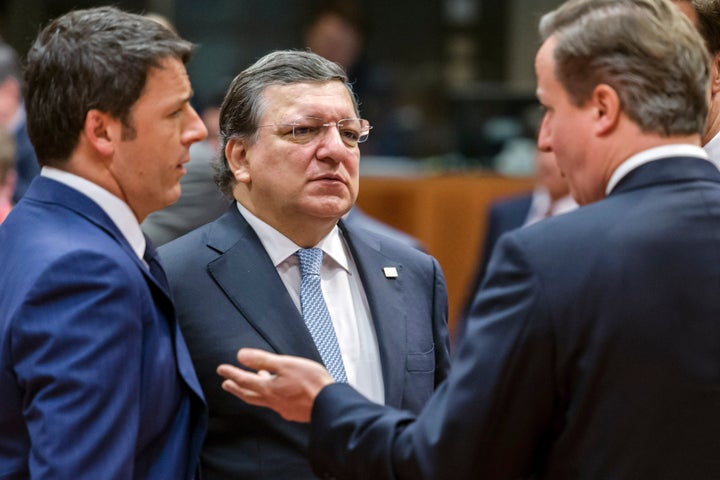 Commission President Jose Manuel Barroso speaks with the Italian Prime Minister Cameron
Preliminary figures seen by the Financial Times suggest that Britain is facing by far the biggest top-up, while the Netherlands is being asked for an extra 642 million euro (£506 million). By contrast, Germany receives a rebate of 779 million euro (£614 million), France one billion (£788.7 million) and Poland 316 million (£249 million).
Ukip leader Nigel Farage said the "outrageous" demand created "real political trouble" for the prime minister. "The EU is like a thirsty vampire feasting on UK taxpayers' blood. We need to protect the innocent victims, who are us," said Farage. "He's in a very weak position. He can do nothing about this.
"And I think, really, he's now being pushed into a position where, unless he brings forward his referendum promise, I think he's in real political trouble."
The EU demand is a huge boost for Ukip ahead of the Rochester by-election, triggered after Mark Reckless defected from the Tories. The Conservatives are worried that a Reckless victory would cause panic on the Tory benches and potentially lead to more defections.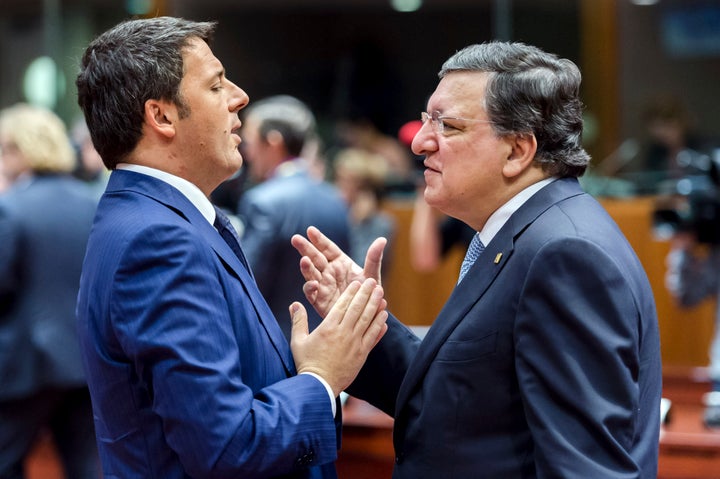 Barroso, right, speaks with Italian Prime Minister Matteo Renzi
Commission spokesman Patrizio Fiorilli said the figures were produced by a "mechanical" calculation and the demand was "not politically motivated".
"Britain's contribution reflects an increase in wealth, just as in Britain you pay more to the Inland Revenue if your earnings go up," he said.
The demand for money has also been criticised by Labour and the Lib Dems. Shadow Europe minister Pat McFadden said: "It's unacceptable that the outgoing EU Commission should spring a backdated bill on member states in this way. But UK ministers have known about this since last week.
"The government should be pushing for the best deal possible for the UK. The prime minister must now make up for lost time, and should be working in step with other affected member states, including the Netherlands and Italy.
"This is a proposal made by the outgoing EU Commission, and with a new commission taking office imminently. So it is imperative that David Cameron now urgently discuss this with other member states, and urges the incoming EU Commission to look again at the proposed change.
"Labour argued against the proposed increase in EU spending in 2012, and voted for a real-terms cut in the EU budget then. We have argued for reform of the EU budget, including a greater focus on generating growth and jobs, and for the EU to undertake a zero-based review of all spending by EU agencies."
A Liberal Democrat spokesman said: "The Liberal Democrats do not think it is acceptable to change the fees at the drop of a hat and demand Britain cough up £1.7 billion. We will work with other parties and countries that have just been landed with similar bills to challenge this."
"It is not acceptable to have a demand such as this seemingly presented as a technical adjustment. It requires detailepolitical discussion," the spokesman said
Related