Multimillionaire Russell Brand has said he is "not interested in making money anymore" and that he is "willing to die" to carry out his political revolution.
After arriving in a chauffeur-driven Merc, Brand was asked by FT reporter Lucy Kellaway on his anti-capitalist and anti-establishment views and his whether or not he would be giving up his Hollywood lifestyle, to which Brand replied: "It probably does mean that, yes."
"I'd give up everything," he added. "I've thought about this a lot, whether or not I'm prepared to go to prison or die for what I believe in. The answer is 100%, without question, yes, I'm willing to die for this."
But, Kellaway adds, he's not going to quit comedy, "because he loves performing." When asked how lucrative it is, he shrugs.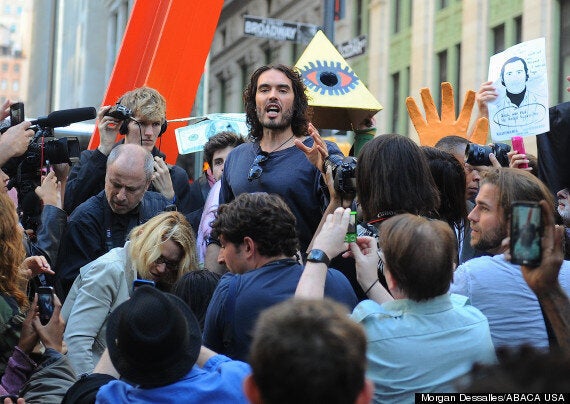 After Thursday night's explosive Newsnight interview with Evan Davis, in which the comedian repeatedly cut across his host and gripped his hands and legs, the FT's journalist reports similar tactics, describing them as making her feel "uncomfortable."
He also tells her to "shut up" when she queried his views.
"He stares accusingly, as though the whole problem with capitalism were my fault," Kellaway writes.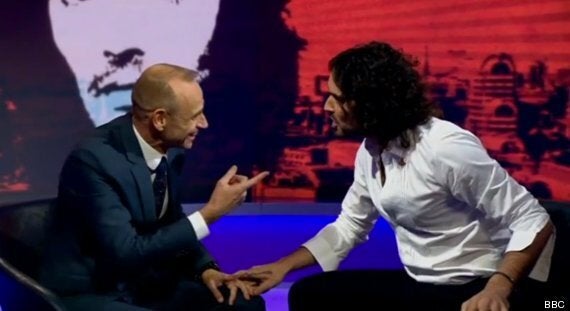 Brand with Newsnight host Evan Davis
Brand sparked mixed reactions after this week's combative BBC Newsnight interview after suggesting that he is open minded about 9/11 conspiracy theories - views which some New Yorker's have since slammed.
In the heated discussion with Davis, Brand was queried about whether or not he was giving credence to conspiracy theories by discussing how the explosion at Twin Towers was "controlled" in his new book.
"We have to remain open-minded to any kind of possibility." Brand said when asked if the September 11 disaster had been orchestrated by the American government.
"Do you trust the American government? Do you trust the British government? What I do think is very interesting is the relationship that the Bush family have had for a long time with the bin Laden family."
He then appeared to change tack, saying that he did not want to discuss "daft" conspiracy theories.
But angry New Yorker Ryan Nugent, 31, told the Mail: "It's an insensitive thing to say. I had friends who were in the tower, luckily they were OK, but we only recently had our moment of silence.
"It was extremely tough and sad for people in this city. And it still is. He needs to talk about something that you can factually prove. There is no evidence to suggest this happened. It's weak from him and he is only trying to create buzz for his book."
In the Newsnight interview Brand added that the BBC "shamefully sabotaged" the outcome of the Scottish Referendum and was reporting on the attack in Ottawa this week in a way to build an "anti-Islamic narrative."
"These tragic events are used to enforce further controls on us," he said.
At one point in the exchange, Davis was reduced to almost pleading with Brand: "I'm trying to take you seriously."
Viewers of the show have enthusiastically responded to Brand's furious reaction to a graph that was presented in the show, presenting the comic with their own versions.