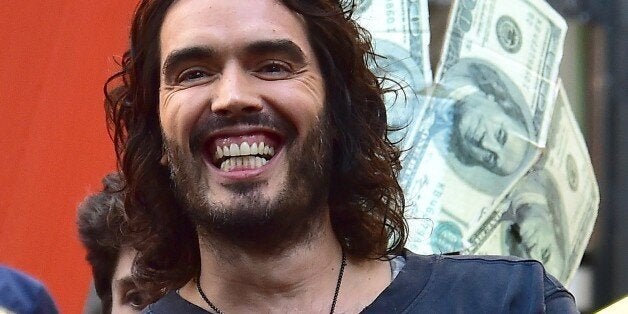 Russell Brand and professor David Graeber have called for the debts of "ordinary people" to be cancelled in an impassioned attack on "mafia capitalism".
In an podcast exclusively shared with the Huffington Post, Graeber, who was a major figure in the Occupy Wall Street movement, argued that mass debt cancellation was possible.
"We have been lulled into this assumption that there is only one way these things can work, that money is a fixed quantity thing and that there is just not enough of it.
"What we discovered in 2008 is that none of it is true. Debts don't have to be paid if you're rich enough, you can just cancel trillions of it."
Graeber said that such a step has been taken "a lot of times before", pointing out that it was the "basis of German prosperity" in the aftermath of World War 2.
Brand said that it would be "nice" if people in Britain raised millions of pounds to collectively buy back student loan debt in order to write it off.
"That's such a beautiful idea, we should do it," the actor and comedian said.
Brand also tore into the banks for their "gangster conduct" in the follow up to the financial crisis, as Graeber said they were able to "write the regulation that is supposed to regulate them".
"That's like writing your own wedding vows," Brand quipped.
Graeber went on to dub it "mafia capitalism", describing credit rating agencies as "part of the hatchet system".
He argued that capitalism was "running out of steam in every possible way", predicting that it will no longer exist in 50 years.
"I'm worried that the next possible thing is going to be even worse," he added. "Most of what we do isn't capitalist."