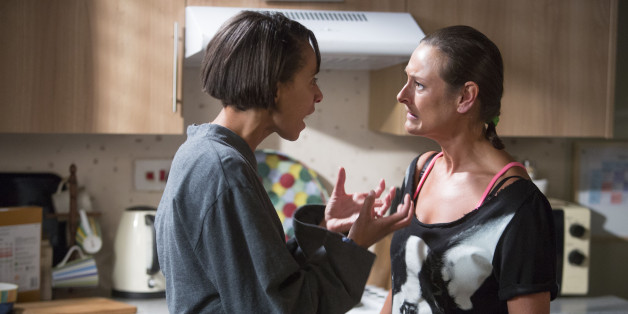 BBC Pictures
The 'EastEnders' team have been praised for the domestic violence storyline between Tina and Tosh, with charity Broken Rainbow UK commending the actresses' portrayal of their characters.
In Tuesday night's episode of the soap, Tosh physically attacked Tina and the charity has been working with the 'EastEnders' cast and crew to make sure the delicate storyline is handled appropriately.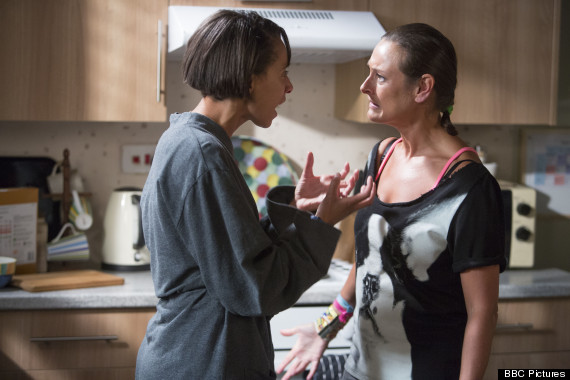 Tosh and Tina's relationship has become increasingly abusive
Jo Harvey Barringer, the charity's Managing Director, tells the 'EastEnders' wesite: "As an organisation we were thrilled to be asked to advise on the Tosh and Tina storyline, and saw it as a great opportunity to get the subject of LGBT domestic violence into the public domain.
"We were very conscious that the storyline needed to portray the very real experiences our service users tell us about.
"Representation of our stories on mainstream television can only help raise awareness not just for service providers," she continues. "But also from LGBT people affected by domestic violence who may recognise themselves or aspects of their partner in this storyline."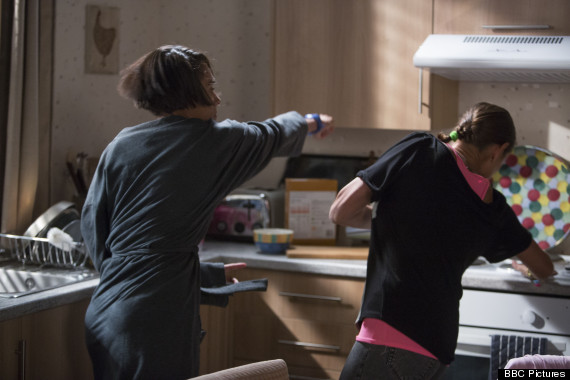 Tosh punches her girlfriend Tina
In recent months, 'EastEnders has tackled a number of other serious issues and earlier this month, Kellie Bright was praised for her portrayal of Linda Carter, who was raped by Dean Wicks.
The cast are currently preparing for the show's 30th anniversary celebrations, which take place in February 2015.
The anniversary will be marked with a live episode, during which the identity of Lucy Beale's murderer will be revealed.
LIKE US ON FACEBOOK | FOLLOW US ON TWITTER