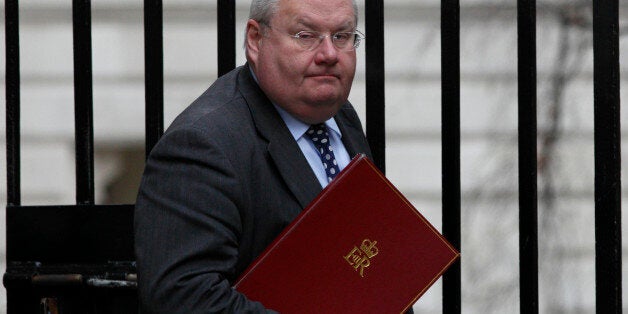 Communities Secretary Eric Pickles is under fire after it emerged that a high profile scheme to release any unused public land to the public has failed to free up anything, despite being launched over three years ago.
However, following a Freedom of Information request from the Huffington Post UK, the Department for Communities and Local Government (DCLG) admitted that it has received only 53 applications for land to be released, with 41 of them already refused.
Two other requests were withdrawn, while five requests were for bodies of land that were either not covered by the Community Right to Reclaim or were already on the market.
Each request submitted is reviewed by Pickles, and if the land is deemed vacant, and the council has no plans to use it, it will be sold on the open market so community groups and others can have it.
"To date, no applications have resulted in a direction to dispose," the DCLG said about the scheme, which ministers relaunched this January as part of the Right to Contest programme.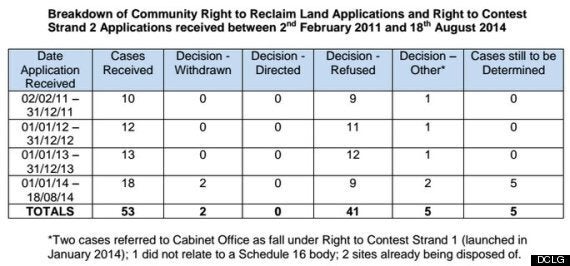 Labour's shadow communities secretary Hilary Benn MP told the Huffington Post UK that the department's progress is "very disappointing."
He added: "The Government made great play of this new right for communities to ask for unused public land to be brought back into use, but not one of the applications has so far been successful. Ministers should explain why this new law has failed so completely."
The department has previously boasted that the programme could allow "huge area of previously developed land" to be free up unused land, estimating that there were over 60,000 hectares of already developed land, which could provide for over 1.2 million homes.
A DCLG spokesman told HuffPostUK: "We've pulled out all the stops and got Britain building, including identifying enough formerly-used surplus public sector land for 100,000 homes, and reforming the planning system to give communities a greater say over how their local area is developed.
"The Community Right to Reclaim Land is another key part of this, giving local people the chance to challenge how local sites are being used and to bring forward ideas for new homes. Each application is considered carefully and since the Right to Reclaim Land was introduced in 2011, we've had over 50 applications. Of these, over half have been on sites where there are already plans for the owner to sell, develop or use the land in question.
"We will continue to accept applications for communities looking to use their Right to Reclaim Land, with another five cases still in the pipeline."
A Labour spokesperson said that the scheme "looks like another damp squib from this out of touch Government", adding: "This is more proof that the Tories and Lib Dems have no answers to the challenges facing Britain."
In response to another Freedom of Information request, the Cabinet Office admitted that only nine applications had been made asking for certain bits of land or property to be sold off since the launch of the programme this January, with seven of those applications already rejected by officials.
A spokesperson for the Home Builders Federation told HuffPost UK: "With a lack of land now the biggest constraint to providing the homes we need, the Government must find a way to cut through the red tape and deliver on promises to fast-track such land."
Popular in the Community