A picture of an ultra-skinny mannequin in a Topshop store has gone viral - after one size 8/10 customer stood next to it to highlight how unrealistic it was.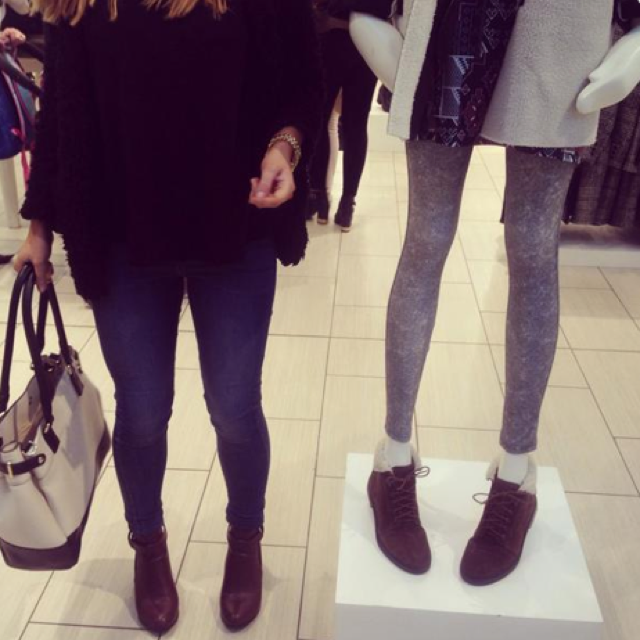 Georgia Bibby appeared in her friend Becky Hopper's photo to highlight the difference between her legs and the mannequins when they spotted the shockingly thin figure while shopping at St Stevens Centre in Hull.
Being a slim girl, the friends were disheartened to note that the mannequin's legs were at least half the size of Georgia's.
Becky uploaded the picture to her Twitter, writing: "The girl on the left is a size 8/10. #Topshop #poorbodyimage #irresponsible #fashion #highstreet 😪 ."
The picture has gone viral, making headlines and creating debate about the store promoting an unhealthy and unrealistic body image for young girls.
Becky has received hundreds of tweets from other shoppers congratulating her for highlighting the issue.
But Topshop has defended the use of the mannequins, saying they are not meant to represent real-life women's bodies.
Becky has uploaded some of the store's statement to her Twitter feed:
A number of celebrities have even commented on the image, with Katie Piper writing: "Just seen the TopShop mannequins! #shakeshead #beingawomanjustgotevenharder."
Becky shared how overwhelmed she is at the response, writing: "Feeling pretty awestruck at the response over the past few days. I'm so pleased that people see this as an issue that needs to be addressed!"
However, she said the pair have been criticised by some 'haters' with Georgia being labelled obese, and the girls being accused by some of 'skinny shaming'. Speaking to the Independent, Becky said: "It is absolutely not about that: it's about the mannequin and how there isn't a variety of shapes in the shops."
Talking to the Mail Online, she added that she is not out to body shame anybody, saying: "We aren't out to body shame skinny girls, far from it. We're hoping to encourage Topshop to show a more diverse range of mannequins, all sizes should be celebrated.
"This super skinny image misrepresents the average UK female as the UK average clothes size for women is a 16.
"Many girls can be healthy whilst looking similar to this mannequin, however, most cannot.
"We simply wish for Topshop to acknowledge that and appreciate that things like this can act as a trigger for those with eating disorders."
Topshop added that it had "long made it a priority to showcase a healthy size image to its customer from the choice of models used in the campaigns, to the stories run online and on the blog".
More on super-skinny mannequins below - it seems it's a global issue...
These amazing party dresses will put a smile on your face - and not a (shockingly thin) mannequin in sight:
Related