Type 'why is English food' into Google, and the first two auto-predictions to finish off the sentence are bad and bland.
In fact, the French may need to get a new derogatory slur because calling us 'rosbifs' (after our trademark for incinerating cuts of beef) is old hat.
British food, frankly, has never been better. Judging by the local street food markets and festivals, we have never had so much choice. And with chefs such as Simon Rogan, Marcus Wareing and Jason Atherton investing in a new generation of chefs, we're only going to get better at it.
But the key area where British food is flourishing and shows much promise is the generation of chefs who prize foraging, using everything the local soil and sea have to offer. It doesn't just taste better, it illuminates your entire dining experience by opening up stories about the local landscape.
One area that is using the riches of the land to create a strong, foodie identity is the Lake District: the place of emerald green grass and still blue lakes, Kendal Mint Cake and Beatrix Potter shops.
On our visit to the area, we were already off to a good start: we had a superb meal at Wild & Co in Windermere, a new restaurant run by runaway Londoners Cat and Dylan, where we tasted seasonal venison and hand-picked blackberries, and a brioche bread and butter pudding with whisky-soaked raisins that will be remembered very fondly (also by our newly-formed love handles).
But the new restaurant that may turn Ambleside into a destination in the same way The Fat Duck did for Bray is The Lake Road Kitchen.
We overheard two people gossiping about it as we dined in our hotel, and then swiftly looked it up on our phones under the table.
Co-owned by front of house manager George Norrie and chef James Cross whose credentials include Noma and Per Se in New York, the premise of Lake Road Kitchen is to use local ingredients and ingredients foraged from surrounding beaches and forests.
When we turned up on a rainy Friday night, we found ourselves in a warmly lit dining room with wood panelling and a wide hatch looking into the compact kitchen.
George isn't just front of house, he also does his fair share of foraging, and his knowledge of each dish is astonishing.
We started the evening with a glass of George's own green juice concoction, made from pine shoots and two apple varieties (one a Granny Smith and the other a secret, he said).
The shoots, he told us, were harvested in a great big bundle in March, and needed to be just under an inch to be edible.
Our first starter was fresh shrimp – live moments before and plunged in water, they retained every ounce of flavour. "Most of which is located in the head," said James approvingly as we got to task.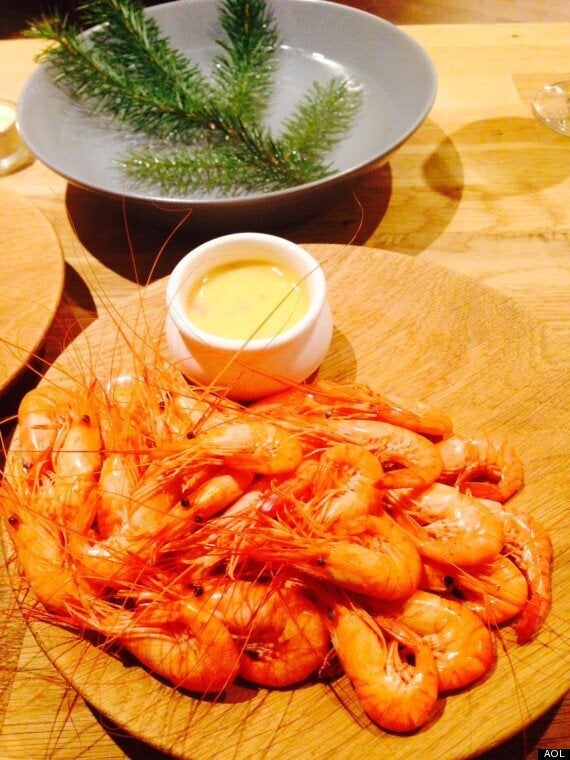 What elevated this from a standard shrimp dish was a butter emulsion with Dog Rose pickle; the flowers foraged and prepared ahead of time. We peeled in silence, washing our hands afterwards in the finger bowl placed in front of us, garnished with a pine sprig.
In keeping with Lake Road Kitchen's foraging and using as much local produce as possible, a big focus is on pickling and preserving, so that ingredients can be used throughout the year. For instance they are now planning and harvesting for their February dessert menu, when there is a lack of anything growing on the trees.
The bread starter was made in the sourdough style but isn't actually sourdough, served alongside fat pearls of bone marrow reduced to an almost jelly-like state and virgin butter. This is when the whey, that is normally discarded as it has a shorter shelf life, is left in. It's lower in fat and a lot creamier.
Shortly after, the prettiest octopus dish garnished with nasturtiums harvested from a neighbour's patch was placed in front of us. The tentacles had a nice crisp edge to them, while the rest of the flesh was meaty and perfectly soft, undercut with the tang of pickled pine shoots. The level of complexity was staggering considering the simple, precise flavours: this was a dish that had been nearly three days in the making or 56 hours to be precise, cooked at 63C.
While we were still reeling from this dish, yet another was placed in front of us. The presentation looked like an inspired monk fish tail, but the dish was actually monk fish with in season tomatoes and dill oil. The tiny garnish that made our tastebuds quiver were the oyster buds, scattered over the dish.
Normally £3 a bud, James revealed he was lucky enough to get them for free from one of his suppliers, and diners are lucky enough not to have to pay the earth for the dish.
What then followed was a very surprising dish: carrots. "Rene (Redzepi) says that vegetables can be the star of the show," says James, "but you have to treat each carrot as you would a fillet steak – it has to be of the highest standard."
The trickiest part of the dish, he adds, is finding carrots good enough for the dish, but he succeeded in creating a vegetarian dish that easily holds its own against the non-vegetarian mains. They have an almost candied flavour, slightly caramelized and sweet, and so as not to be too cloying on the tongue, the sheep sorrel and tangy yogurt cutting through the heavier notes.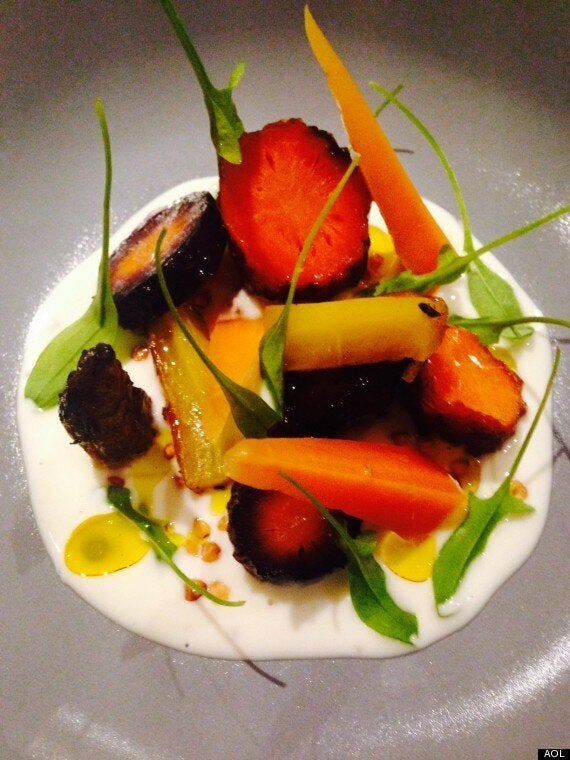 We were asked at the start of the meal what dish we simply couldn't live without, and the ox tongue didn't disappoint. Tongue is one of the most terrifying dishes when cooked incorrectly, but it's appearing on British menus with near-perfect execution.
James served a pastrami cured ox tongue with wild watercress (literally picked by sous chef Freddie at 3pm that afternoon), the smoky, saltiness of the meat accompanied by pickled onions.
Our favourite dish was yet to come: diver-caught scallop wreathed in sea plants foraged from the beaches of Ulverston. From a local supplier called Bruce Shellfish, the salty, meaty scallop sat in the most gorgeous creamy, cheesy Mornay sauce.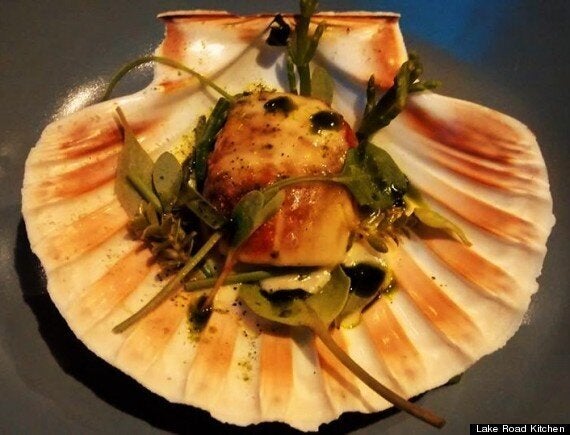 We could've eaten about two more of these, but that wouldn't have left space for the 49 days aged veal rack. This bad boy was shown to us an hour prior, so that we could see the cut of meat – James' preference. While we were busy scoffing other dishes, it then went in the oven and came out perfectly pink, softer than butter, served alongside a kale Caesar salad.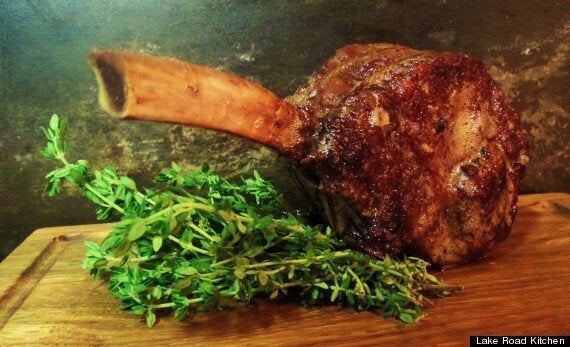 To round the meal off, a raspberry clafoutis decorated with bright dots of salmonberry and raspberry jus, was plated in front of us with a pot of honeyed cream. It wouldn't be a Lake Road Kitchen dish without a story of course, and the honey is taken from a neighbor who keeps bees down the road.
Clafoutis is a French dessert from Limousin, and this was a glorious homage with local ingredients, eggy and rich.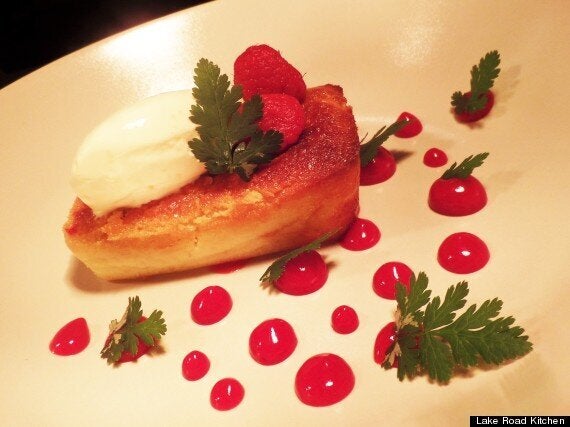 Afterwards – and we were on the point of waddling – we poked our noses into James' kitchen. It is perfectly formed and organised in such a precise manner that indicates just how in sync the head chef and sous chef need to be so they don't (literally) run into each other.
The lads are so enthusiastic, earnest and passionate about giving their customers good food, that supporting this fledgling restaurant is a no-brainer. Some people on Trip Advisor have griped about the price, but considering the level of preparation and effort that goes into each and every dish (the lads are foraging come rain or shine), we're not sure what they're expectations are of value for money.
For what it's worth, we couldn't believe our luck at coming across this gem. And while these are ambitious words, they are ones I've never uttered before. The sweetness of the staff, the superb breadth of the wine list and the consistently high standard of food and storytelling coming out that kitchen have made this the best meal we've ever had.