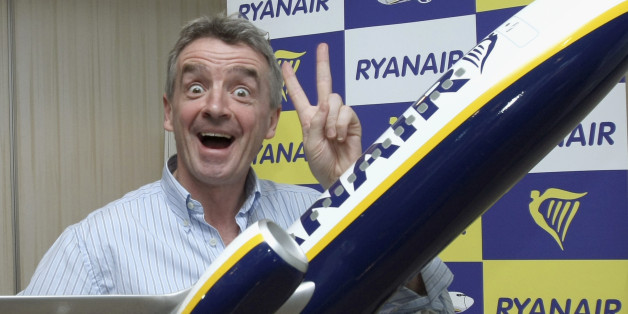 ASSOCIATED PRESS
Michael O'Leary has urged David Cameron to stay in the European Union and work with Eastern European member states rather than follow France and Germany's "communist ideal".
The outspoken Ryanair boss issued the call in an interview with BBC Radio 4's Today Programme as the airline vowed to cut average fares by up to 10% as part of a bid to fly an additional five million passengers over the winter period.
O'Leary said that Britain has "always had a diffident attitude to Europe". He did not directly support either Britain staying in the European Union or leaving, as he said "people will still fly, people will still travel" regardless of what happens.
"There are things that we don't like, but fundamentally, the European project has been a terrific success," he said. "You see millions of British people travelling on their holidays to Spain, Italy, Greece every year."
However, he added: "I think we would be better off in the longer term if the UK was to stay in europe and work with some of the Eastern European countries who have a more forward-looking view and will pose a suitable counterbalance to the Franco-German communist ideal."
This comes as German chancellor Angela Merkel gave Cameron an ultimatum over his intransigence on European Union freedom of movement, warning that Britain is fast reaching "the point of no return" when it comes to exiting the union.
The Ryanair boss' attack on France and Germany raised some eyebrows, with one listener writing on Twitter that O'Leary was "still talking bollocks clearly".
Did I just hear Michael O'Leary say that France and German promote 'the communist ideal'? @BBCr4today

— Denis MacShane (@DenisMacShane) November 3, 2014
"Counterweight to the Franco-German Communist ideal" - O'Leary. Er ... what?

— Neil Durkin (@Niluccio) November 3, 2014
Euch! Michael 'Air's £1 a puff' O'Leary is still alive. Franco-German 'communist' ideal? Still talking bollocks clearly. #r4today

— Lee Hyde (@anubeon) November 3, 2014
Meanwhile, the Dublin-based carrier believes there are "many opportunities" open to it, such as competing more vigorously at primary airports and in attracting business traffic which tends to travel more during the winter period.
Its "ambitious" new forecasts for the six months to March 31 include the plan to fly an additional 2.2 million passengers compared with its previous estimate - leading to a total rise of 16% or 5.3 million customers on a year earlier.
It now expects annual profits of up to 770 million euros (£602 million), a rise of 18% on its previous guidance, with profits for the summer half-year now 32% higher at 795 million euros (£621.6 million).
Ryanair said average fares will fall by between 3% and 5% in the current quarter before an aggressive promotional drive will cut fares by between 6% and 10% in the new year.
As a result, the airline expects to carry 89 million customers in the year to March 31, a rise of 9% on a year earlier and the second such upgrade since September. Average fares will be up by 1% to 47 euros (£36.76) across the year as a result of higher prices over the Easter period.
See also:
Rudest Michael O'Leary Quotes