Virgin billionaire and would-be space pioneer Sir Richard Branson has insisted that he and his family will travel to space aboard his Virgin Galactic spaceplane - despite Friday's fatal crash.
Branson told Sky News that the project could "move forward" despite the ongoing investigation into what caused the crash.
US investigators have not ruled out the possibility of pilot error on board SpaceShipTwo, which crashed in the Mojave Desert in California on Friday, killing co-pilot Michael Alsbury, 39. Branson said Peter Siebold, 43, escaped serious injury and should be out of hospital in the next few days.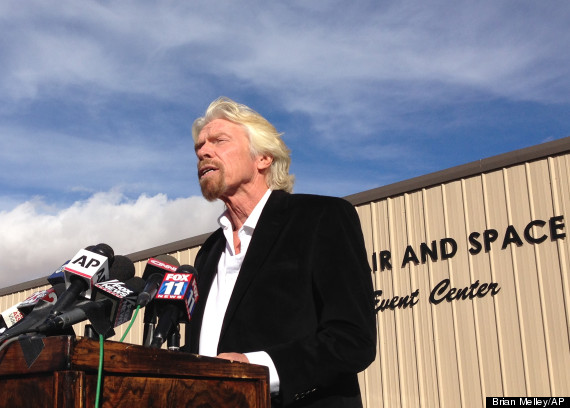 Branson told Sky:
"We've spent many, many years building a spacecraft, a mothership, a space port, that I think can do the job and do the job safely.

"We will not start taking people until we've finished a whole massive series of test flights and until myself and my family have gone up, and until we feel that we can safely say to people 'we're ready to go'."

All I can say is we will not fly members of the public unless we can fly myself and family members.

"We need to be absolutely certain our spaceship has been thoroughly tested - and that it will be - and once it's thoroughly tested and we can go to space, we will go to space.

"We must push on. There are incredible things that can happen through mankind being able to explore space properly."
He also criticised the reporting around the incident:
"It was incredibly hurtful to the 400 engineers who have worked so gallantly at Virgin Galactic... It was insulting. If the press had looked at the photographs they would have seen full fuel tanks and engines all intact on the ground and yet they were talking about a massive explosion.

"They were talking about people ejecting out of the plane and ejector seats. We don't have ejector seats. It was the British press at its worst and some of them should hang their heads in shame."
"I'm absolutely convinced Virgin Galactic has a great future," he added.
Virgin Galactic eventually plans to fly passengers to altitudes more than 62 miles (100km) above Earth.
The company, which sells seats on each prospective journey for 250,000 US dollars (£156,000), has denied reports that it ignored safety warnings ahead of the test flight crash.
In a statement, the company said: "At Virgin Galactic, we are dedicated to opening the space frontier, while keeping safety as our 'North Star'. This has guided every decision we have made over the past decade, and any suggestion to the contrary is categorically untrue."