Brittany Maynard, the 29-year-old woman who planned to end her life voluntarily, has died.
The newlywed was diagnosed with a terminal brain tumour (glioblastoma) in April of this year, just months after marrying Dan Diaz.
When told she only had six months to live, Maynard became the face of the Die with Dignity movement after posting a video online explaining why she wanted to end her own life.
"My glioblastoma is going to kill me, and that's out of my control. I've discussed with many experts how I would die from it, and it's a terrible, terrible way to die. Being able to choose to go with dignity is less terrifying," Brittany told People magazine in October.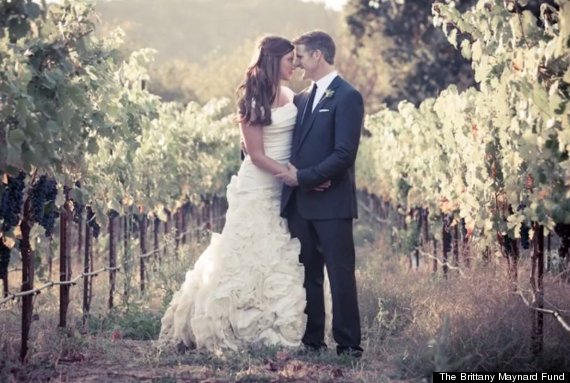 She added that at the start of October she was "dealing with more pain and seizures and difficulties" every day.
Brittany took aid-in-dying medication she was prescribed by from her doctor on Saturday.
According to People magazine, Maynard posted a goodbye message on Facebook shortly before taking her life.
"Goodbye to all my dear friends and family that I love. Today is the day I have chosen to pass away with dignity in the face of my terminal illness, this terrible brain cancer that has taken so much from me … but would have taken so much more," she wrote.
"The world is a beautiful place, travel has been my greatest teacher, my close friends and folks are the greatest givers. I even have a ring of support around my bed as I type … Goodbye world. Spread good energy. Pay it forward!"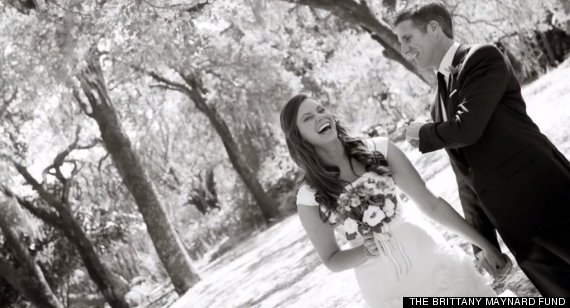 An obituary was posted to Maynard's website on Sunday night, confirming her death to the thousands who have followed her story.
"Brittany chose to make a well thought out and informed choice to Die With Dignity in the face of such a terrible, painful, and incurable illness. She moved to Oregon to pass away in a little yellow house she picked out in the beautiful city of Portland," the obituary reads.
"Oregon is a place that strives to protect patient rights and autonomy; she wished that her home State of California had also been able to provide terminally ill patients with the same choice."
The piece ends with a quote from Maynard herself: "It is people who pause to appreciate life and give thanks who are happiest. If we change our thoughts, we change our world! Love and peace to you all."
SEE ALSO:

Go Giver: This Woman Started A Charity To Fund And Organise Weddings For Other Terminally Ill People

Terminally-Ill 20-Year-Old Spent His Final Moments Helping Others In Heartbreaking Video