A Cambridge-educated investment banker who referred to himself as an "insane psychopath", was reportedly involved in a "love triangle" with the women found murdered at his Hong Kong apartment.
Rurik Jutting, a 29-year-old who went to one of the country's prestigious private school and grew up in leafy Surrey, was arrested after the mutilated bodies of the women were found at his flat in the early hours of Saturday.
One of the victims died six days before her body was discovered in a suitcase.
A close friend of one victim has reportedly claimed Jutting paid groups of women to join him at his flats for drinks.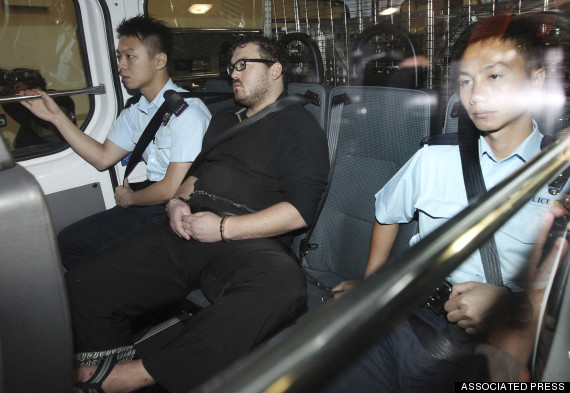 Rurik Jutting leaves court with police
The Times (£) reported that his first victim, Sumarti Ningsih, 25, considered herself to be Jutting's girlfriend, but that she continued to occasionally have sex with clients for money and knew that he had met up with the other victim, Jesse Lorena, 30.
The unnamed friend told the paper that Ms Ningsih met Jutting in the Wan Chai red-light district on several occasions and he "thought he was really powerful".
The banker was remanded in custody yesterday after being charged with two counts of murder after his arrest in the early hours of Saturday. He will appear again on November 10.
The two murder charges were read to Jutting, who wore black trousers and a black T-shirt. He entered no plea and spoke only when asked if he understood the charges against him, saying: "I do."
Jutting had been employed at Bank of America Merrill Lynch and only quit a few days ago.
Before leaving he had set automatic response for his email account at the bank in which he described himself as an "insane psychopath".
Rurik Jutting, British Banker, Appears In Hong Kong Court Over Women's Murders
The email response read: "I am out of the office. Indefinitely. For urgent enquiries, or indeed any enquiries, please contact someone who is not an insane psychopath. For escalation please contact God, though suspect the devil will have custody (Last line only really worked if I had followed through)."
The message suggested that he had meant to kill himself.
Last Monday, he posted a picture on Facebook of his high-rise balcony in the upmarket 40-storey J Residence where he was living and commented that he was embarking on a "new journey".
He wrote: "Stepping down from the ledge. Burden lifted; new journey begins. Scared and anxious but also excited. The first step is always the hardest."
Jutting's alleged killing spree came to an end when he called police shortly after 3am on November 1.
CCTV footage from his building showed him returning with a woman, according to local press.
The first victim, named locally as Jesse Lorena Ruri, who is reportedly a Filipina prostitute in her 30s, was found in the living room of the 31st-floor apartment with wounds to her neck and buttocks.
She was reported to have still been alive when police burst in but died soon afterwards. Friends held a minute's silence in her favourite pub in her memory, according to The Sun.
Eight hours later, police discovered the body of the second woman, named in court as Sumarti Ningsih, when officers found a suitcase on the balcony with feet hanging out.
She was killed on October 27, six days before her body was discovered in an advanced state of decomposition.
Rurik Jutting leaving court
Photo gallery

Rurik Jutting Arrives At Court

See Gallery
A police source quoted by the South China Morning Post said: "She was nearly decapitated and her hands and legs had been bound with ropes. She was naked and wrapped in a towel before being stuffed into the suitcase. Her passport was found at the scene."
Assistant police commander Wan Siu-hung said that officers had not discovered the second body sooner because they were collecting evidence in the living room first.
Jutting had asked officers to investigate the scene at his apartment, police said.
Officers were called to the address in the early hours of Saturday and later seized a knife.
Following the arrest a neighbour told the South China Morning Post there had been a strange smell.
"There was a stink in the building like a dead animal," the man said. "It was a shock because you would never expect something like this to happen in Hong Kong."
A friend who knew Jutting from his days as a student at Cambridge University said he was "awkward" around girls.
The friend told the Sun (£): "He was never one of the loud boys but he showed his masculinity in other ways. He was a member of the rowing club and then got a career in the very masculine world of investment banking."
A female friend said the crimes Jutting is accused of are "not in his character", adding that he was "hard-working and intelligent - a gentleman".
According to The Telegraph, Jutting broke off an engagement because he had been unable to reconcile himself to his fiancee's previous infidelity.
The woman had told him she had slept with someone else while working in New York and his reaction was so extreme she flew back there later that day, the paper said.
Jutting grew up in Cobham, Surrey, where his parents still live.
He is believed to have attended £35,000-a-year Winchester College before reading history at Peterhouse, Cambridge.
After graduating he landed a job in the City and lived in Wapping, east London.
According to his LinkedIn profile, he worked at Barclays from June, 2008 to July 2010, when he began working for Bank of America Merrill Lynch. He was transferred to Hong Kong in July, 2013.