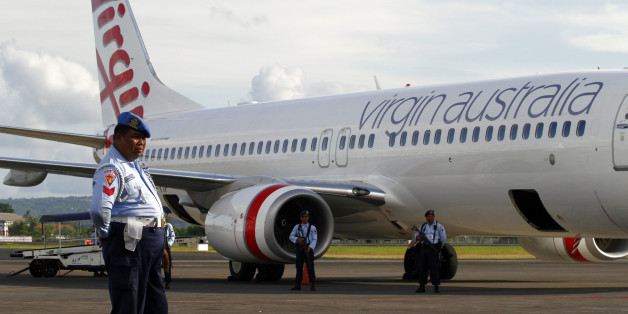 ASSOCIATED PRESS
A Virgin Australia plane was forced to turn back to Los Angeles after passengers were reportedly left trapped in a nightmarish situation.
The airline has been forced to deny that there was human excrement splattered in the aisles after passengers aboard flight VA2, which was en route to Christchurch, New Zealand, gave graphic reports of the whiffy dilemma.
Witnesses on board said the stench of the leak was "unbearable" and that they were forced to wear mask for the three hour return journey due to the stink.
Passenger Julia Malley told New Zealand radio: "We could see it [human waste] go through the aisles, like it was very obvious."
She added on her Facebook page: "We were literally sitting in crap two rows away. Yuck!"


Virgin Airlines toilet explodes on its way from LAX TO MELBOURNE plane turned back and I was on the flight.

— johnny x (@johnnyxmusic) November 3, 2014
Virgin Australia were quick to deny sewage was sloshing around the plane, saying that two sinks on board were leaking.
The airline said: "In accordance with standard operating procedures, the captain made the decision to return to port as a precautionary measure after two of the sinks on board were leaking.
"The on board toilets operate on a completely separate drainage system. As the issue was with the aircraft sink, and not the toilets, there was no incident of leaked human waste. The safety of the aircraft was never in question."
Despite the airline's claims, Ms Malley was adamant she saw human waste, The New Zealand Herald reported.
"If it was water, why would they turn the plane around? We saw bits of toilet paper and crap. Ask anyone else on the flight - they would agree."
A written apology had been issued to all 351 passengers on board the flight.
The letter said: "Unfortunately the aircraft did need to return to Los Angeles due to an issue with plumbing in the fresh water overflow system on board and could not continue with the journey.
"At no time was health or safety at risk to any persons on board the aircraft."