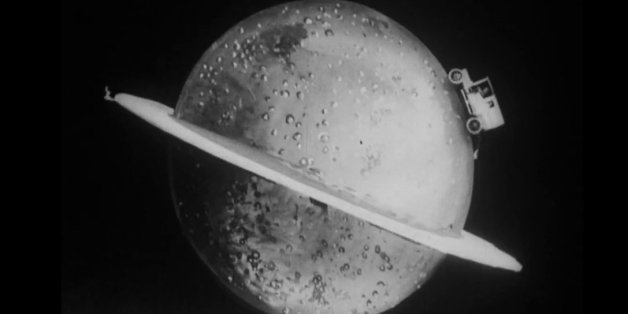 BFI
The best science fiction film you'll watch this week isn't the one about Magic Mike In Space. It's this incredible 103-year-old masterpiece about a robot driver.
'The Automatic Motorist' was made in 1911 by director WR Booth, and with more than a nod to Georges Méliès is one of the most adorable, spectacular and beautiful science-fiction movies we've seen in ages.
In fact the movie is actually a remake of Booth's older 'The '?' Motorist' - but on a bigger scale, and with a snappier title.
Released online as part of the BFI's Sci-Fi: Days of Fear and Wonder season, 'Automatic Motorist' is free to watch, like 60% of content on the BFI Player site. Other highlights include The Airship Destroyer from 1909 and this brilliant film about a futuristic, monorail-strewn London from 1924.
There is also a great selection of more recent sci-fi, from blockbusters like Back To The Future and Videodrome to the 1961 British classic The Day The Earth Caught Fire.
Edward Humphrey, Director of Digital at the BFI said: "BFI Player is uniquely placed to join the dots of film, taking audiences on an expertly curated journey from the very earliest films to the very latest releases.
"Growing audiences for British independent and specialised films is core to everything the BFI does and we recognise that audiences are seldom offered a real diversity of choice in the on-demand market."
Head over to the BFI's main website for details on how to catch many of the world's best sci-fi movies in person during the Days of Fear and Wonder season.
Meanwhile, here are our highlights from Automatic Motorist - a chilling forecast of our world in an age of Google Cars.
Photo gallery

'The Automatic Motorist': An Epic Sci-Fi Classic

See Gallery