Well, we've only got to Episode 2 of 'The Missing' and already there's enough complexity, grief and stray plot-strings to keep us gripped.
The similarity between this story and the real life tragedy suffered by the McCanns in Portugal has not gone unnoticed, particularly with mother Emily's secret trip to pray in church. Every parent's worst nightmare of a missing child has also prompted viewers to share increasingly personal sentiments on social media, such as the following: "Watching "the missing" makes me want to wrap Jack in barbed wire so no one can touch him, and never leave the house with him again... #scary".
After last week's discovery of a drawing he knew to be by his missing son Ollie, ragged father Tony Hughes (James Nesbitt) succeeded in getting the case opened after eight long years. But we mostly learned about the gloomy fate of obvious suspect Victor Bourg, a local known paedophile whose alibi turned out be not as rock solid as the police believed.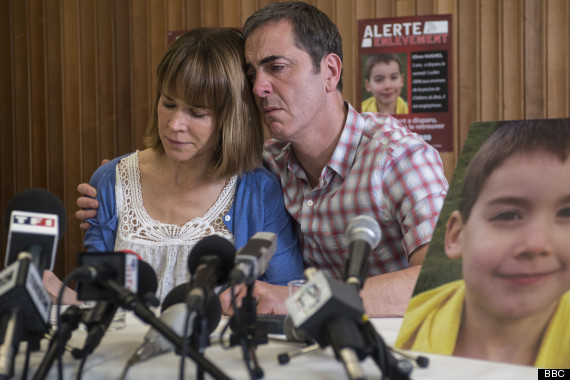 Frances O'Connor and James Nesbitt play a couple in the deepest pain and panic in 'The Missing'
Flash forward eight years, and Victor was succumbing to treatment, voluntarily, that promised to rid him of his desires. Bizarrely, this highly controversial topic was only one of a rich wool-ball of plot developments that will surely keep us guessing at the motives of pretty much everyone. Even ragged Tony wasn't so blameless, it transpired, with a man he'd beaten turning up at a hospice treating his ex-wife's father. Looks like we're going to need those six more episodes.
Of course, with these intense storylines and intersecting plots, 'The Missing' has already been billed this year's 'Broadchurch' - and there are some familiar motifs... despite 'The Missing' being penned before the other hit series even aired.
An unhappily married couple at the centre of the trauma, an almost too obvious culprit who could prove to be a massive red herring with his own, unrelated problems (think Broadchurch's tragic shopkeeper Jack Marshall). A tireless journalist who seems to be destined to do more harm than good. A whole crew of bystanders who know more than they're letting on.
James Nesbitt's role must have been exhausting to film, and he's excrutiating to watch, with his rabid grief threatening to boil over at any moment. Viewers have been warming to him particularly ("James Nesbitt is so talented", "James Nesbitt is one hell of an actor"). It's strange, he's been around for a long time, but it always takes just one role...
And, of course, if it IS this year's 'Broadchurch', then the culprit might already be under our noses. Which means we might have to keep our eye on Mr Interpol.
'The Missing' continues on BBC1 next Tuesday, with episodes available on BBCiPlayer. All TV trends data referred to in this article has been supplied by Virgin Media, which provides access to up to 260+ channels including Freeview Channels, Virgin Movies, Sky Movies and Netflix.
LIKE US ON FACEBOOK | FOLLOW US ON TWITTER