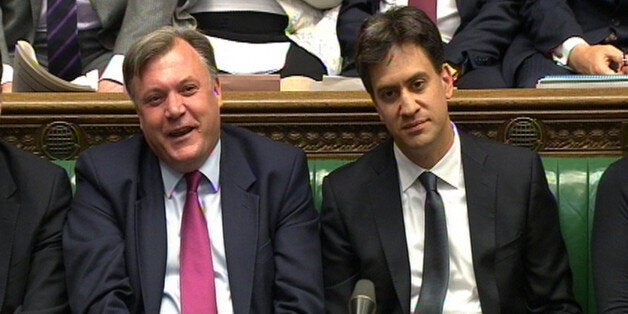 Ed Balls has dismissed as "nonsense" reports of a plot to oust Ed Miliband amid concerns about the Opposition leader's performance.
The Labour leader carried out a mini-reshuffle of his frontbench team last night that put the MP who ran his campaign for the party's top job in charge of the ground effort to win the general election.
The changes came amid reports of a deepening of the depression on the Labour benches. According to the BBC several Labour MPs have told the chairman of the Parliamentary Labour Party that Miliband should stand down before the election, which takes place in just seven months time.
And The Times reported this morning that some MPs were circulating a letter that demanded Miliband stand aside. A veteran Labour MP told the paper said: "I don't know a single shadow cabinet member who thinks we can win. Labour MPs have approached me over a plot but I've said no. I'll watch it on the telly."
The chances of Labour getting rid of its leader so close to polling day are slim, but as the polls show Labour's lead over the Tories has all but vanishes, the chatter is another unwelcome distraction for the party leadership.
Shadow chancellor Balls insisted the party was "united" and focused on its policy agenda. Responding to reports of the letter calling for Miliband to go, Balls said: "I think all this is nonsense, to be honest. I've no idea about any of this."
Balls, who stood against Miliband for the leadership in 2010, told the BBC: "All I know is that everybody in the Labour Party, from Ed Miliband down, is focused on tackling the cost-of-living crisis, building an economy which works for working people, reforming Europe but not walking away, having tough and fair controls on immigration, saving our National Health Service - that's what Labour's for.
"It's the Conservative Party which are riven and divided and defecting left, right and centre. We will focus on Tory division, Labour will stay united."
On Wednesday evening Miliband made Lucy Powell vice-chairman of the general election campaign in last night's reshuffle and she acknowledged that "new energy" was needed.
Powell, who ran Miliband's campaign for the Labour leadership and was elected as an MP only in 2012, was the main winner in the shake-up carried out following Jim Murphy's resignation.
Although Douglas Alexander will remain in overall control of the election strategy, Powell will be in charge of the campaign operation and vowed to make sure Miliband played a prominent role on the doorstep.
In an acknowledgement that change was needed six months ahead of the general election next May, Powell said: "I'm going to unblock the system to make sure that our operation is serving all of those fantastic candidates and our fantastic front bench and Ed as our leader."
She told BBC2's Newsnight: "We always need to review these things and make sure that they are working at their very best and I'm absolutely sure that, with some new energy and vigour into the system, we can make sure that all of our candidates, our front bench, our shadow cabinet, are getting the best service that they want."
Popular in the Community