Two of the most senior members of Ed Miliband's shadow cabinet have angrily denied claims they were in secret negotiations over what to do if the Labour Party leader quits.
Yvette Cooper and Andy Burnham - among the leading candidates to take over in the event of a vacancy - were reported by The Times to have struck a "non-aggression pact".
One figure was quoted as saying: "It's about presenting a joint offer to make a contest unnecessary."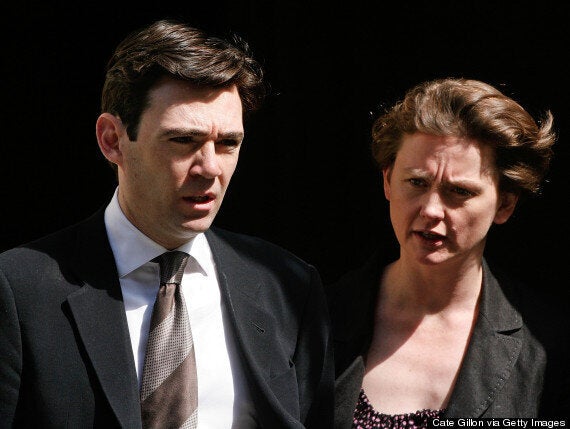 Andy Burnham and Yvette Cooper have denied they are preparing for the demise of Ed Miliband
And a poll, by YouGov for LBC radio, found that nearly half (49%) of people surveyed believed Labour's chances of returning to power would be improved if Miliband was replaced.
His leadership was also savaged by the New Statesman, the left-wing magazine that backed him for the top job in 2010, which branded him an "old-style Hampstead socialist" who does not understand the "lower middle class or material aspiration".
Miliband was forced publicly to deny reports that several backbenchers had demanded his resignation amid concerns over the Opposition's prospects of victory at next year's general election.
On Friday morning, Respect MP George Galloway, who had had friendly relations with Miliband, called for him to step down, puzzingly, in favour of arch-Blairite Alan Johnson.
Labour's former Cabinet minister Peter Hain said he was "angry" about the "mutterers" in Labour ranks who were fuelling reports about plots against Mr Miliband.
Dismissing speculation about the Labour leader's future as "Westminster bubble nonsense", the Neath MP called on the party to "pull ourselves together" and unite behind Mr Miliband.
Hain told BBC Radio 4's Today programme: "What we need to do as a Labour party is unite and pull ourselves together and get behind Ed, as I believe the party and the country is, and campaign. And I think he will be prime minister next year. I'm not saying that out of bravado or tribal loyalty. I think we will be the biggest party and Ed Miliband is on course to win, but he needs the support of every Labour MP.
"The mutterers, if they exist - and no doubt journalists are not inventing this, though they can't name the people - if the mutterers continue to mutter then all they will do is stop places like Neath from beinng liberated from this destructive uncaring Government which is destroying people's lives."
Hain added: "If there are people feeding this stuff, they should stop, because what the country is desperate for is change. They want to get rid of this incompetent Government, which might not even be able to keep the lights on over Christmas.
"They know that Ed Miliband - despite all the attacks on him in the media - has a plan for the country. He was the one who showed the courage to take on Rupert Murdoch, and identified the way the electricity industry was ripping the consumers off.
"He has been consistently leading this country and pointing out that we need to change the direction of the country, bringing up policies for new housing and tackling the problem of zero-hours contracts and so on.
"The latest opinion polls show the Conservatives on 27%, just three points ahead of Ukip on 24% and Labour with a clear-ish lead. We need to do better in the polls of course, but we are in a new political climate where there's no trust in the political class of which I'm a member and all the party leaders inhabit. No party leader has good ratings at the present time."
Labour's election co-ordinator Douglas Alexander issued a plea for the party to "pull together", warning: "Divided parties lose elections."
A spokesman for shadow home secretary Cooper said there was "no foundation whatsoever" to the suggestion. "The spreading of lies like this only damages the Labour Party and should be seen as exactly what it is - complete and utter garbage," he said. "Yvette, the shadow cabinet and the party are united behind Ed's leadership."
Shadow health secretary Burnham's spokesman insisted there were "no discussions of this kind".
"The party is united behind Ed's leadership and we're are confident he will become the next Prime Minister," he added.
Miliband dismissed as "nonsense" reports that backbenchers were calling for him to fall on his sword, insisting the party was focused "on the country and the things that matter to the country".
And Alexander told BBC1's Question Time: "He's got challenges, but all of us have got challenges in every political party. "Every one of us in the Labour Party has to reflect the reality that divided parties lose elections and we have got a profound responsibility to the people who want to get away from the mistakes, the errors, the sheer injustice of this coalition government to pull together, to offer credible change in the face of these tough economic times, and that's exactly what we plan to do."
Former cabinet minister David Blunkett sought to calm the atmosphere, calling for an end to "this bout of political insanity". "When you are standing on the edge of a cliff it is unwise to believe that by jumping you will suddenly learn to fly," he told The Guardian.
There was also support from one of Labour's biggest individual donors, JML founder John Mills, who urged the party to "rally behind its leader, get out and start canvassing and work towards winning the next general election ... not to get involved in internecine fighting like this."
But Lord Soley, who as an MP chaired the parliamentary party, issued a bleak vision of the party's general election prospects and suggested Miliband should take a less prominent role as he was not seen by voters as a "charismatic potential prime minister".
And further evidence of the concerns within the party came with the revelation that shadow Welsh secretary Owen Smith told activists the movement was "dying" and that unless it became "much, much more vigorous ... then we are lost".
"I don't accept that this matter arises," Miliband said of reports that several backbench MPs had called for him to quit. "Honestly, this is nonsense. Our focus and the Labour Party's focus is on the country and is going to remain on the country because there are huge issues that our country faces."
Lord Soley said he had not heard Labour MPs calling for Mr Miliband to go but used an article in The Guardian to set out concerns. "The problem is not so much individual policies as the lack of a vision and a sense of direction for the country combined with lack of clear leadership responsibility in the leader's office," he wrote.
"Who is in control and directing the strategy and ensuring everyone (including Ed) follow that? The media leadership is crucial and needs to put up front our best communicators - that is vital. The 'team' has to be promoted because, as Ed acknowledges, he is not seen as a charismatic potential prime minister. So 'Team Labour ' has to take a much higher profile because of that. And that requires a media strategy and a policy promotion strategy designed to create that sense of vision."
Smith dismissed what he called "mischief-making tittle tattle" after a recording was published of his contribution to a recent conference organised by the Centre for Labour and Social Studies (Class) think-tank. "Unless we are much, much more vigorous, then we will not attract a new generation of people to fight in this country and if we don't do that then we are lost," he was heard to say.
He said a fellow panellist's warning that "as a movement we're in danger of dying and we need to turn it around" was "absolutely right".
A Labour spokesman said it had been "a humorous dig at the age of the people attending the fringe meeting and not a comment on the Labour movement".
In a post on the Labour List website, Smith wrote: "As a party we will stay united in the face of this criticism and have courage in our convictions. The next general election will be the most important for a generation. We will deliver on our obligations to the people that we got into politics to serve by not losing focus or wobbling in the face of media spin."
Labour backbench MP John Mann told BBC Radio 4's Today programme: "(Miliband's) new campaign organiser, Lucy Powell, said she is going to get him out in the country talking to lots of voters.
"That's what I called for in the summer. I think that's what he needs to do because that will then concentrate his mind on what he needs to do to become more popular in the personal polling ratings.
"I think he can recover it, but he needs to be doing the right thing. We don't need more policies, we need him out and about literally on the doorstep, listening to people and reflecting on what they are saying."
YouGov surveyed 2,041 people online from November 5-6.
Popular in the Community