Motörhead frontman Lemmy Kilmister is one of the rare rock royals who's survived an entire career living with the amp cranked up to 11, yet pretty much looks the same as he's always done.
He's 68 - an age that defies belief when you take a look at him - and give or take a few changes (he had to swap his daily Jack Daniels for water and cigarettes for air after undergoing surgery for heart problems), he's still standing.
Not bad for a guy who thought he wouldn't make it past 30.
As he comes to the UK ahead of the band's 40th anniversary next year (40!), we asked him some questions about THAT moustache and what he thinks makes a man for our new HuffPost UK Men section.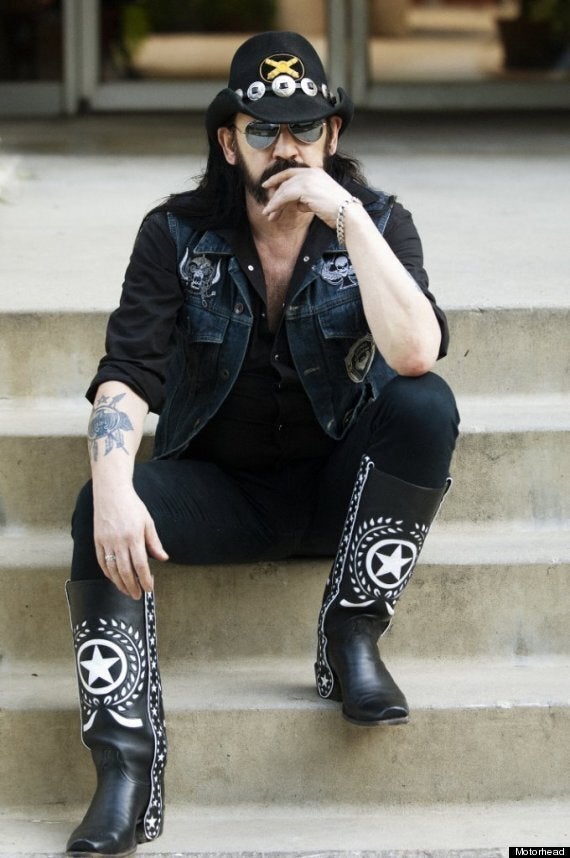 What do you think of the current younger generation of men, compared to when you were in your 20s?
I don't really know, I mean, I know a lot of people that are that age and they're all different like in my generation, some of them are clerks and some of them are rock 'n roll. I don't think of anybody as a whole I think of individuals really.
You grew up on a farm in North Wales - which ain't exactly rock n roll central. How did you go from that to taking an interest in rock?
I heard Little Richard and Elvis and that was it, you know? Then I went to London because that's where you had to be in Britain. You can't do it from anywhere else really. Even the Beatles had to go to London.
What did music do for you, mentally or cathartically, when you first started out?
Oh, It was great you know, better than sex. Or better than the sex I was getting at the time."
Why the noble mutton chop as a facial hairstyle of choice? Do you have to groom it and how long does it take?
Grooming it? I don't groom it. I just cut it every now and again. Anyway it's a fine style. I think more people should have'm.
We're hearing a lot of guff about young male musicians requesting peppermint tea and biscuits rather than Jack Daniels and strippers. Do you think the identity of the male rock star has changed?
It depends who you're talking to really, doesn't it. I mean some people are still wild, although it's getting more and more difficult and uh… some people, you know, like the mineral water. I don't know. I have to drink some of that shit now, but there ya go.
Tell us something about yourself that will completely surprise us?
One of my favorite bands is ABBA.
What advice would you have for your younger self?
That's fucking ridiculous.
What do you like to do on a day off?
Day off? Listen. Most people get to clock out at the end of their days work. I'm Lemmy twenty four hours a day seven days a week. So, I don't get to clock off. So I don't have days off, I have days when less people are talking to me than others. (Ha ha ha).
A man is a guy with a dick and no tits.
Well, he's nothing if not honest.
Motörhead are currently touring in Europe. Click here for dates.
Related