Matthew Williamson is not like other male fashion designers. While that may sound like a back-handed stab at his peers, it isn't.
The son of an optical receptionist mother and a father who owned a television sales company, this Mancunian lad is all about graft, doing what he loves and most refreshingly: a lack of pomp and pretense. There is no drama about Williamson, he doesn't think he's too good for or above the loyal celebrity clientele that made his career, and that's a good thing.
Unlike other fashion companies who weathered the recession by merging or selling to larger companies, Williamson has remained solvent. He is nothing if not a canny businessman.
He started young. At the age of 17 he was offered a place at Central Saint Martins College in London, and his passion for making dresses for his friends blossomed into a thriving business.
Fresh out of university, he got some stick for accepting a job designing accessories for Monsoon. But then he started his own company Matthew Williamson Ltd. with Joseph Velosa in 1997 and the rest, they say, is history.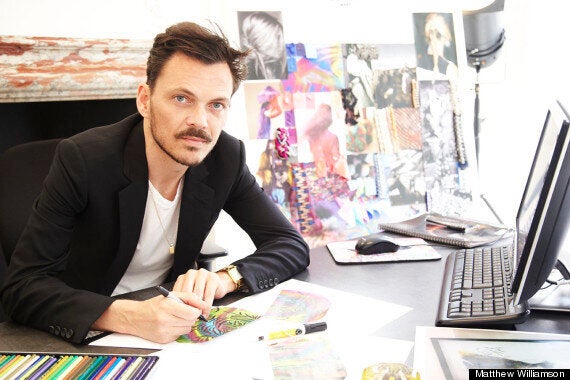 The down-to-earth dog-lover, who loves nothing more than dinner with friends, has been hailed by Anna Wintour as "clear about who he is – a designer who understands lifestyle as well as style."
Naturally, we were curious to catch up with Williamson...
When was the first time you thought "I want to be a fashion designer"?
As a young boy I was always sketching and even making dresses for friends at school, there was never a doubt in my mind that I wanted to be a fashion designer. My parents were incredibly supportive and helped nurture my creativity.
Tell us about your mum...
My mother was the first person who made me realise the transformative power of clothes. She has a great eye for detail and always looks immaculate, watching her getting ready made me understand how empowering fashion could be.
What advice do you have for fashion designers looking to start up?
Believe in your vision. If you don't, know one else will.
And what advice would you give your 20-year-old self?
Don't worry about making mistakes - you'll learn from them.
Why do you prefer designing women's clothing?
I've always loved women and like the idea that my pieces might help them feel more beautiful and confident.
What was the biggest challenge in setting up your fashion house?
Starting a business is a huge challenge, I had recently graduated from Saint Martins and was still trying to learn as much as I could about the industry and the business of fashion.
Ultimately I was lucky to have the support of my family and my business partner and now Chairman Joseph Velosa who brought the skills and business acumen necessary to build a business and overcome early challenges.
Describe a typical day in your life...
I'm quite an early riser and start the day by taking my dogs Coco and Mr. Plum out for a walk to get my morning coffee.
I like to check my emails, review my calendar and prepare lists for the day before I arrive at the studio. Then, I'll spend the day working with my design team, fitting, sketching and working on toiles for the new collection.
Evenings might be spent at official functions but if I have a free evening I love having dinner at home or at a local restaurant with friends.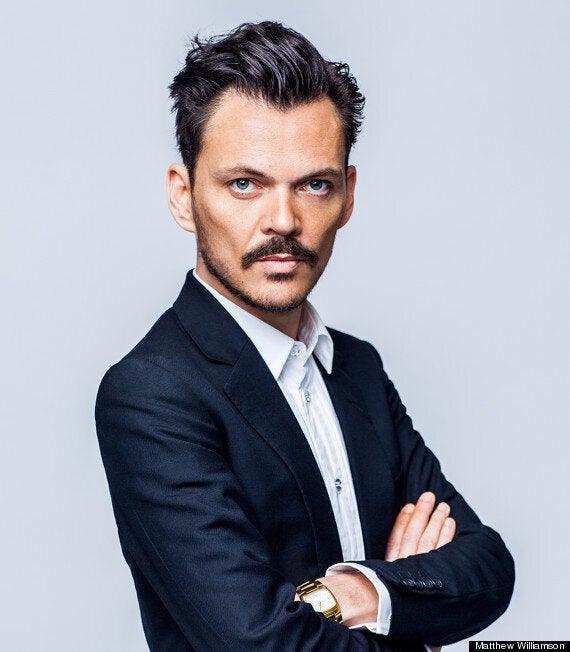 How do you manage your work/life balance?
As a designer you never really switch off, your mind is constantly whirring and thinking of ideas. The addition of constant connectivity with emails and social media means a good work/life balance is increasingly difficult to keep.
How do you let off steam and relax?
Travel provides both a source of inspiration and a respite from work. I try to go away at least once or twice a year with friends.
How do you think the business has changed since you started out?
The industry has changed significantly on every level; fashion is more global and democratic than ever before. The speed and pressures of the industry have certainly increased and the audience is more educated and knowledgeable than ever with the onset of digital and social media - it's a very exciting time.
What's been the biggest highlight of your career so far?
There have been so many from my debut show, 'Electric Angels' in 1997 through to the retrospective held to celebrate 10 years of Matthew Williamson at the design museum. I'm grateful to have the opportunity to do what I love and look forward to building more layers to the brand.
What inspires you the most?
Travel has always been an important source of inspiration for me. Though I'm not inspired by any one place, a lot of artisanal crafts have found their way into my collection such as Batik prints, Moorish patterns and silk threadwork embroidery.
Matthew Williamson will be appearing at Celebration of Style, a three day event taking place in Liverpool from 13 – 15 November, celebrating fashion, art, photography and architecture.
Related