Labour MPs are having "jitters", a shadow cabinet minister admitted as Ed Miliband faced continued pressure over his leadership.
Caroline Flint insisted the Labour leader had managed to pull the party together to focus on the issues affecting the country but conceded that some of her colleagues had concerns.
Miliband has endured a turbulent few days following a wave of criticism and reports of plots, including claims that 20 shadow ministers are poised to call on him to quit.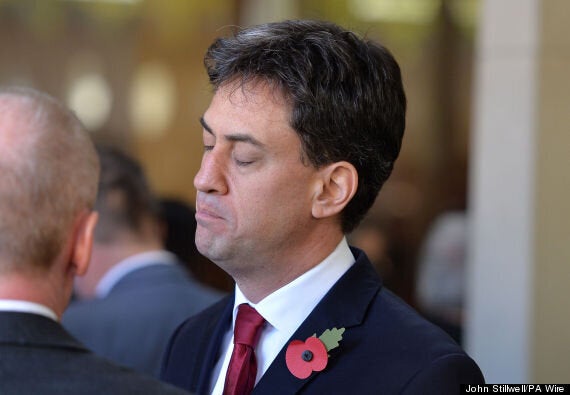 Miliband at the Cenotaph on Sunday
Flint, shadow energy secretary, told BBC One's Sunday Politics: "Look, some of my colleagues are having jitters and part of that is that we've always said that this is not a done deal, this election, this is going to be hard fought, and we said that from 2010 and Ed has been saying it since he was elected our leader.
"We have to fight for the right to represent the country in Westminster."
Labour sources dismissed claims of a leadership crisis as overblown and insubstantial.
"There are clearly people in all parties who are unhappy and nervous about the four-party dynamic. The difference is that in the Conservative Party they have had two MPs defect to Ukip," they added.
Senior figures are ready to strike if former home secretary Alan Johnson signals he is prepared to step into the breach, according to The Observer.
The number of Labour MPs prepared to act has "reached a critical mass" but they want a coronation rather than a difficult leadership contest, sources told the newspaper.
Former Labour leader Lord Kinnock admitted the headlines about Miliband are "serious" but dismissed the "so-called threat" to his leadership as unsubstantial because it has come from anonymous sources.
He described Miliband as a leader of courage and resilience, telling BBC Radio 4's The World This Weekend: "He's not in danger from the Labour Party or anybody in the Labour Party because whilst today's headlines are serious obviously, it wouldn't be on the front page of every newspaper otherwise, the so-called threat, and I emphasise so-called, is certainly not substantial.
"Not only because all of the sources so-called of the threat are common in their anonymity and cowardice and as far as I can see their tendency towards political suicide, but because there is no real substance in what they are saying and the claims that they are making in so far as you can identify them are totally unjustifiable."
Lord Kinnock said the media's portrayal of Miliband as "weird" was at odds with who he really is.
He said: "The portrayal of him as being remote, cerebral, weird if you like, this word that's greatly doing the rounds, that's a total contrast to the man as he really is and it's when he's in situations when he really can communicate that, that's when he comes across and people are deeply and genuinely impressed."
Gordon Brown's former spin doctor Damian McBride accused Miliband of "fluffing" the opportunities he has had to restore his authority within the party.
He told Murnaghan on Sky News: "If anyone was prepared to come forward now and actually do a formal challenge I think the Miliband camp would fold very quickly."
A YouGov poll for the Sunday Times found that only 34% of people who voted Labour at the last general election believe Miliband is up to the job of prime minister, compared to 51% a month ago.
But Johnson told the paper him becoming Labour leader was a "definite no-no" and backed Miliband.
He said: "I am not keen to do it. We can win with Ed as leader and I can help him do that.
"That is why I'm staying on because there is a lot to be done and there is hope for the future if we can regain the trust of the British people."
Lucy Powell, who Miliband made vice-chairman of the general election campaign in the reshuffle earlier this week, told plotters to "show us your colours" or move on.
She told Pienaar's Politics on BBC Radio 5 live: "Either show us your colours and put names to quotes or let's just move on and have a different conversation."
Former Labour MP Andrew MacKinlay, who has previously called for Miliband to quit, told BBC Radio 4's The World This Weekend he believed a group of MPs would gather together to tell the leader to step down.
"If they went as a posse, I frankly think it would have the desired effect.
"I have a feeling this is going to happen anyway."
Some of Labour's most senior figures were earlier this week forced to deny holding secret talks about what to do if Miliband quit as party leader.
Shadow health secretary Andy Burnham and shadow home secretary Yvette Cooper dismissed reports they intended to present a joint platform in the event of a leadership vacancy.
Popular in the Community