The controversial 'fake sheikh' investigative journalist Mazher Mahood has sensationally hit out at BBC Panorama's claims that they postponed an expose of him over "new information" - instead claiming the corporation has been forced to reevaluate its sources.
Mahmood told HuffPost UK through his lawyers at Kingsley Napley LLP that the BBC had been "deeply misleading" and that he had been forced to speak out in order "to correct the impression they have given".
As reported first by HuffPost UK, the documentary about the News of the World and later Sun on Sunday reporter was pulled from schedules with just minutes until broadcast last night.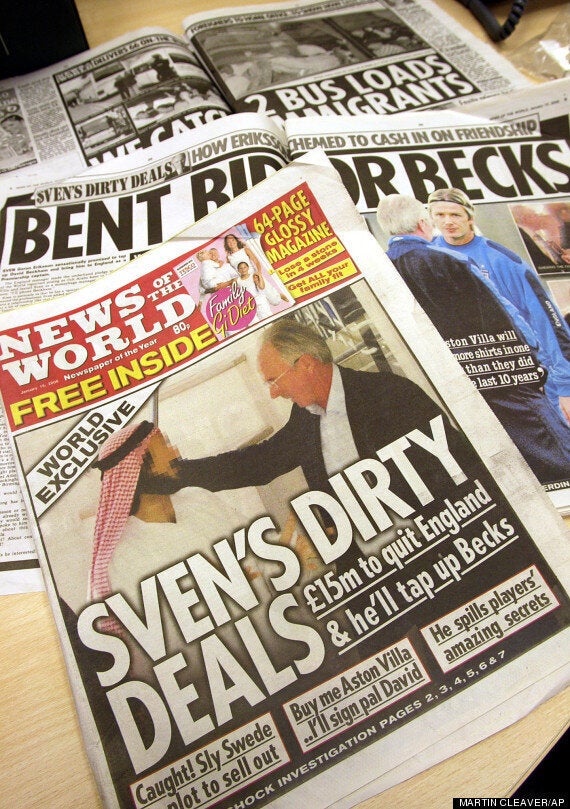 One of Mahmood's stings - on Sven-Göran Eriksson
The corporation said it had been provided with new information from lawyers. "Shortly before transmission Mr Mahmood's lawyers submitted new information relating to one of the cases in the programme which, as a responsible broadcaster, the BBC needs to evaluate," a spokesman for the corporation told HuffPost UK, promising the documentary would be broadcast at a later date.
Mahmood had that afternoon lost a Court of Appeal challenge to the High Court's decision not to grant an injunction to stop the broadcast.
But Mahmood claimed the information was not new, and said the BBC was shown new evidence that made the programme "unsustainable" at the end of last week, on Monday afternoon, and again on Monday evening. "It gave further support to what we had already said. It was not new information."
Mahmood said he had grave doubts about the reliability of the two individuals he claims are "sources" for the investigation, former News of the World photographer, Steve Grayson, and Florim Gashi.
Mahmood alleged most of the interviewees for the programme had vendettas against him.
"They are not independent and again I have pointed out in detail to the BBC why no reliance should be placed upon them."
He alleged that one of them, former News of the World photographer Grayson, was "sacked" from the now defunct paper for "faking photographs of the Beast of Bodmin Moor in 1999", something Mahmood claimed to have reported to the editor.
The Panorama investigation, led by John Sweeney, was "designed to condemn my career as an investigatory journalist," Mahmood said. He claimed that he had been co-operative with the corporation, providing "detailed rebuttals and evidence showing that the allegations are unsustainable and wrong".
"I have a right to reply under the OFCOM code which I have exercised, but despite this the BBC has (during the time period given to me to reply) both publicised the fact that their programme will condemn me, called me a "crook" and tweeted mocking messages. They apparently still intend to broadcast the programme although in what form at this stage I do not know."
"I am an investigative journalist and am as happy as anyone for the media to investigate. However I would expect them to rely upon credible sources."
Mahmood has exposed numerous alleged crimes and wrongdoings, often by posing as a sheik, targeting royals, sports stars, politicians and celebrities in stings over 30 years.
But he has also had accused of entrapping and provoking his targets, such as X-Factor judge Tulisa Contostavlos whose drugs trial earlier this year was dropped after the judge accused Mahmood of lying. Mahmood has been suspended from The Sun since the case collapsed in July.
The Panorama programme, which was scheduled to be shown at 8.30pm Monday night was intending to show images of Mahmood and reveal details of his identity, after his lawyers failed to win a high court injunction to prevent images taken after 2006 that are not already in the public domain being shown.
His lawyers argued that his family's safety would be put at risk if his identity became widely known.
The attorney general had even intervened to ask if it could be pushed back while it is decided whether Mahmood will be charged with an offence over the Contostavlos case, where he pretended to be a film producer and allegedly caught the pop star organsing a £800 cocaine deal.
But the judge decided this wasn't relevant to the injunction, and that there was no reason to restrict the BBC's freedom of speech or editorial discretion.
He also said that Mahmood failed to provide evidence that exposure of his identity would endanger him or his family.
Mahmood said he was "cooperating fully with the police inquiry and have not been arrested". The journalist called the corporation "deeply irresponsible".
"They are ignoring this and seem hell bent on broadcasting, whatever effect it may have. This is deeply irresponsible and not in the public interest or in the interests of justice, but unfortunately in line with the attitude they are taking around their programme in general.
"I hope the BBC will see sense and postpone any broadcast until the conclusion of any proceedings. I hope then that they will review and consider the evidence properly (and not threaten broadcast without the full facts) and stop the broadcast. This may be a vain hope. They are determined to condemn me whatever the truth.
"In the meantime if they do go ahead I would ask anyone interested to keep an open mind on any allegations they do indeed make."
A BBC spokesperson said: "We have nothing further to say. We will let our programme speak for itself when we broadcast it."
The BBC's head of news, James Harding, reiterated on Tuesday that the corporation would broadcast the programme about Mahmood once it had been re-evaluated.
He said that the BBC had received the latest information "we'd been asking to see for many days" only shortly before the programme was due to be broadcast.
"This is a seriously good piece of work, extremely revealing and squarely in the public interest," Harding said.
"But the worst of all worlds is when you get the big picture right and trip up over a detail.
"So when some information we'd been asking to see for many days was sent to us by Mazher Mahmood's lawyers at seven o'clock last night, we, as a responsible broadcaster, had to consider it. We're looking at it, and we'll make sense of it as quickly as we can, and then we'll broadcast it."