Never-before-seen video footage shows the Tower of London poppy exhibition from above, revealing the breathtaking number and density of the ceramic flowers covering the tower's moat.
The surreal footage reveals the display of 888,246 ceramic poppies, which was put together by thousands of volunteers to commemorate the centenary of the First World War.
The new footage was shot by a flying quadcopter and shows the installation, called 'Blood Swept Lands and Seas of Red', in new glory.
In the four months since the first poppy was planted on 5 August, the exhibition has become a major attraction, with an estimated four people visiting to pay their respects.
The final poppy will be placed in the moat today just before 11am, when a two-minute silence will be observed to remember the fallen from the first world war and all wars throughout history.
Mayor of London Boris Johnson wrote in The Evening Standard yesterday: "You have to see the poppies at close hand to understand. It is only when you see the care with which they have been made — each blood-red ceramic petal distinctively curled and folded — that you grasp the concept; and then you see how those individual blooms make up that sea of red, and you have an idea of the scale of the sacrifice."
Huge crowds gathered for a two-minute silence on Remembrance Sunday last week, attended by Prime Minister David Cameron who said "in a very short space of time it has become a much loved and respected monument."
Instead of being simply removed for good, the installation will now be dismantled and taken on tour to areas across the country until 2018.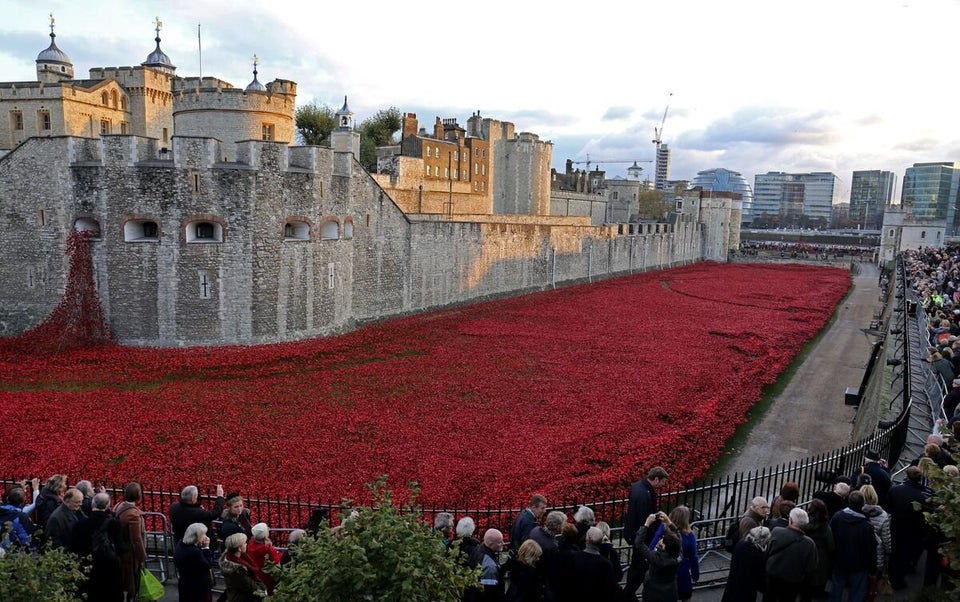 Stunning Pictures Show Swathe Of Poppies Lit Up At Dusk