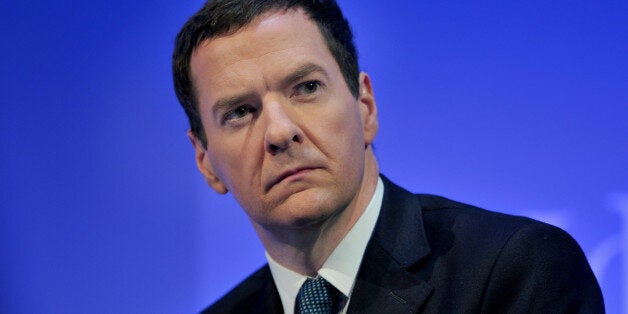 George Osborne's efforts to boost British exports appear to have backfired after the Huffington Post UK learned that two of his flagship schemes have helped just one company trade overseas so far.
Deepening the embarrassment, a group of trade bodies and chambers of commerce expressed alarm to David Cameron after ministers made an "unexpected and shocking" cut to a key trade show programme that risked leaving the government's support for exporters "in shreds".
These latest revelations will be especially humiliating for the coalition as it is busy promoting British exporters as part of an official "Export Week", with Labour warning that ministers have "serious questions to answer".
However, the Sponsors' Alliance, a group of trade bodies and chambers of commerce, which arranges for firms to attend overseas trade shows, warned that the government's cuts would leave companies unable to "trust any promises of support" and leave Britain's exporting potential "severely dented".
In a letter to the Prime Minister last month, seen by HuffPost UK, the group's chairman Tim Collins wrote: "This week we have received the unexpected and shocking news from UKTI [UK Trade & Investment] of an immediate cut of approximately £1m to its Tradeshow Access Programme (TAP), despite this budget being agreed with key industry bodies over a year ago."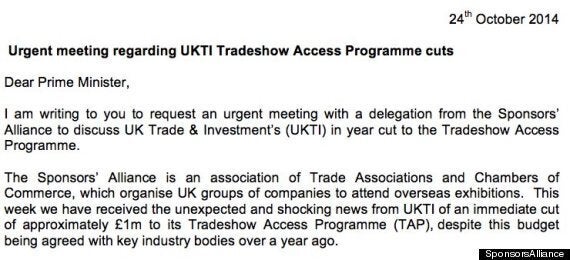 Collins said that the cuts to TAP, which he praised as "one of the most appreciated and effective government support schemes for exporters," amounted to a "breach of trust" and would hurt "a large number of industry bodies".
He also tore into UKTI for cutting "almost all the financial contributions to companies which helped them to compete in the battle for global markets", warning that firms will be much less ambitious as they "will no longer be able to trust any promises of support".
He went on: "Some cuts are being applied to events only weeks away. For many, it is already too late to cancel. Some of the ATOs [Accredited Trade Organisations] will have to make staff redundant, as they will have no other way of bridging the massive shortfall. Moreover companies that had budgeted for a grant will be majorly affected.
"This seems to us to be, at best, a breach of trust between UKTI, ATOs and the companies concerned and for the ATOs (according to item 1.2 in the Terms & Conditions that ATOs accept from UKTI), a breach of contract.

"Going forward, ATOs and companies will no longer be able to trust any promises of support from UKTI and will, therefore, plan a much lower risk strategy. This will see a great reduction in the number of overseas events, especially in the higher-risk emerging markets with the subsequent fall in bringing UK companies to export and to new markets.
"In the past six months, SMEs, which are the life-blood of British industry and create quality jobs in the UK and encourage, in many sectors, the return of manufacturing to our shores, have seen UKTI cut almost all the financial contributions to companies which helped them to compete in the battle for global markets including: Passport to Export, Gateway and now TAP.
"In the long term, the rebalancing of the economy, encouraged over the past four years will be severely dented. UK companies' perception of government credibility and its support for exporters will be in shreds.
"As trade organisations with thousands of company members doing their best to generate billions of pounds in overseas revenues, we believe that UKTI has made the wrong cut and that there are other areas in UKTI's budgets which could have been cut first."
The British Chambers of Commerce echoed these concerns, with its policy director Adam Marshall telling HuffPost UK: "We have long argued that the UK's level of export support is inadequate."
He went on: "The Tradeshow Access Programme is highly valued by many Chamber members, as it gives small-and medium-sized companies a springboard into exporting via trade fairs around the world. We are very concerned to see funding for a successful programme cut so drastically over the last two years, creating uncertainty right at the time when we need to be getting more SMEs into the export game.
Collins urged the Prime Minister: "Either the government provides a properly funded, consistent scheme which gives companies what they are asking for or it just forgets about working with industry and leaves the arena."
HuffPostUK asked the government to justify their cut to this programme but, at the time of publication, no-one was available to comment.
This comes as the coalition admitted that its £3bn Direct Lending Facility (DLF) unveiled last autumn and operational since this March, has only helped one firm - the construction giant Carillion - trade overseas.
The department also indicated it had identified 39 potential contracts that range in size from £5 million to £500 million that it could support as evidence of "the export ambitions of firms of all sizes."
A spokeswoman for UK Export Finance, the government agency that offers insurance and bank guarantees to exporters, said: "These financing deals, involve complex and lengthy negotiations between the businesses involved."
A spokeswoman for UKEF blamed the ERF's slow progress on "current market conditions", the need for firms to win deals and overseas buyers to be "supportive" of the scheme, concluding: "It is therefore not surprising that no deals have been concluded."
She stressed that one firm, who may need up to $150 million (£95 million) in support to clinch a deal in the Far East, was "progressing through the early stages of the deal pipeline".
Ministers have previously abandoned a similar programme, the Export Enterprise Finance Guarantee scheme, after only five firms received assistance.
In response, Labour's shadow business secretary Chuka Umunna MP told HuffPost UK: "Ministers' promises of an export-led recovery and a rebalanced economy lie in tatters. George Osborne said he would double Britain's exports to £1 trillion but Britain's trade deficit is growing and according to the OBR exports are set to make almost no contribution to UK growth in the coming years.
"Government scheme after government scheme which were supposed to help more firms export have failed. At the same time, it has emerged that leading trade organisations have written to the Prime Minister warning that they 'will not be able to trust any promises of support from UKTI' and that government credibility could be left "in shreds" because of sudden and unexpected policy changes. This is hugely embarrassing for ministers during the annual UKTI Export Week and they have serious questions to answer."
A UKTI spokesperson said it has "substantially increased" its support to its trade shows, events and programmes since the coalition took over.
"UKTI is committed to delivering cost effective, high value services that will increase the number of British businesses exporting while delivering greatest value for money. These are kept under review to assess cost efficiency and best value for our customers. As part of our standard review process, we have decided to make a very slight reduction to this year's TAP budget. This is a fraction of the total UKTI spend on events and missions," a spokesperson added.
"Grants that have already been awarded are unaffected and we are in discussion with Accredited Trade Organisations (ATOs) to ensure British businesses continue to be well supported on the international stage."