Nicola Sturgeon, soon-to-be crowned Scotland's first female leader, has vowed she will lead the party to "better times" after the Scottish National Party's defeat in the independence referendum. And the tears of her mother in the crowd said it all.
Sturgeon, who has been Scotland's Deputy First Minister for seven years, will take over from Alex Salmond as First Minister of Scotland when he leaves government next week. He is rumoured to be interested in a seat in the House of Commons come May 2015, with the party hoping to win in Scotland, and play a key role in Parliament as one of the largest parties, if not a member of a coalition.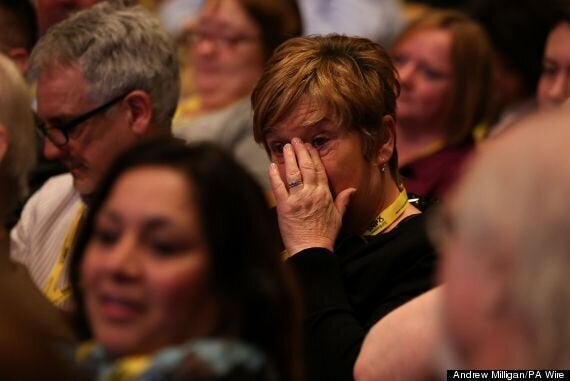 Joan Sturgeon (centre), Nicola Sturgeon's mum wipes a tear from her eye as her daughter is voted in as the new leader of the Scottish National Party
Salmond, who will speak this afternoon, will leave defiant, insisting: "They thought it was all over, it isn't now."
"The referendum Yes vote was 45 per cent, not 55 per cent, but let us proclaim what each of us knows with a greater certainty than ever before – Scotland will become an independent nation."
The Yes side "won a great deal", he will claim. "The 18th September, 2014 will come to be seen as the day Scotland took control of her own destiny."
On Friday morning, Sturgeon ruled out any possibility of coalition with the Conservative party. "Scotland hasn't voted Tory for many, many a long year. And one of the democratic arguments for independence is that we shouldn't have to put with Conservative governments we don't vote for. The SNP wouldn't impose a Tory government on Scotland."
She was more hesitant on whether the party would do a deal with Labour. "I should say the SNP was a minority government in Scotland between 2007 and 2011, and while we prefer being a majority, that was a positive experience for the government and I think for the country as well.
"So instinctively I would tend away from formal coalitions towards an arrangement that was more issue-by-issue. But in whatever arrangement there was post-general election we would be seeking to get the best deal, the greatest influence, the strongest voice for Scotland."
It says much for Sturgeon's formidable reputation that there was no candidate to challenge her for the leadership, which was confirmed today at the SNP conference in Perth. "In Alex Salmond I have the hardest of acts to follow," she said in her speech to activists today. "He has been an outstanding leader of our party. He has been an outstanding First Minister for Scotland."
She told activists that she was "overwhelmed by a feeling of privilege and responsibility".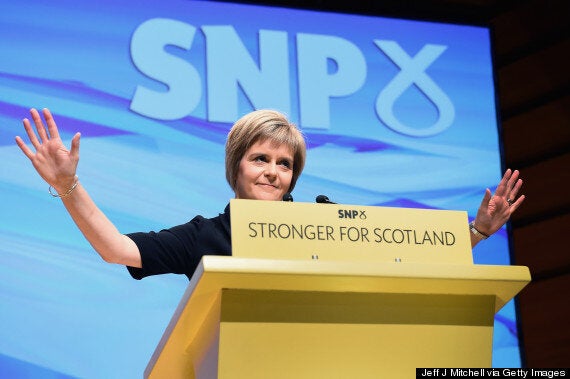 Nicola Sturgeon is formally announced as the new leader of the SNP
But she added that, above all else, she had a "sense of real excitement about the opportunities to come".
"This is a good time for our party and this is a good time for our country. I'm ready to lead this party and this country to even better times ahead. To become the leader of the party I joined as a teenager is the biggest privilege of my life.
"It is an emotional moment, and one that I cherish and one that I relish."
She said that she would have three key priorities as leader, the first of these being to ensure the party "continues each and every day to govern this country to the best of our ability".
She added: "We will do so with competence, energy, commitment, with imagination and with vision. We were elected first as a minority in 2007 and then as a majority in 2011 to improve our health service, to provide better education for our children, to keep our communities safe from crime. As long as I am first minister of this country that is what we will do each and every day."
Sturgeon set the party the challenge of winning the general election next year north of the border, saying: "When the SNP is strong, Scotland is strong. Our voice will be heard and our interests will be protected. Make no mistake - I want the Westminster parties to hear this loudly and clearly - with a strong team of SNP MPs at Westminster there will be no hiding place. That vow, that promise for more powers will be delivered, it will be delivered in full."
She also pledged under her leadership the SNP would "keep making the case for Scotland being an independent country".
"I believe today as strongly as I ever have that we should be independent. And I believe today as strongly as I ever have, perhaps more strongly than I ever have, that we will be independent."
But she made clear Scotland would only leave the UK when a majority of its people back this in a referendum.
Since the independence vote in September, the SNP has seen its membership swell from 25,000 to 85,000, making it the biggest party in Scotland "by a country mile".
Sturgeon added that the party's trade union group now had more members that the Scottish Labour Party. She said that one in 50 adults in Scotland was now a member of the SNP, adding this gave the party the ability "to reach parts of Scotland our opponents will never, ever reach".
Sturgeon has already spent 10 years as his deputy leader and, after the SNP came to power at Holyrood in 2007, she became the country's Deputy First Minister. She has already done the top job in all but name at Holyrood. When Salmond was first elected leader he did not have a seat in the Scottish Parliament at the time, so it was Sturgeon who headed the party in Holyrood, taking on Labour's Jack McConnell at the weekly First Minister's Questions clashes.
These exchanges helped give her a reputation as a formidable politician - a reputation that has stayed with her.
She revealed at an SNP conference that, when she had her first meeting with Scotland Office minister David Mundell as part of the referendum negotiations, his mobile phone rang with a call from his mother checking that he was OK.
After a television debate on independence with Scottish Secretary Alistair Carmichael last year, political commentator Fraser Nelson wrote in the Telegraph that the clash had seen ''a genteel Liberal Democrat being disembowelled by a ferocious and merciless Nationalist'', adding: ''She seemed to quite enjoy it.''
Sturgeon has previously admitted her desire to take on the top job in Scottish politics.
''Anybody, in any walk of life - if they are ambitious - wants to get to the pinnacle of their profession,'' she told the Daily Record.
''So, hypothetically of course, that is something I would like to think that one day I will get the chance to do.''
When she announced she was standing for the role, she declared: ''I am putting myself forward for two simple reasons: I want to serve my party and my country. And I believe I am the best person for the job.''