Cameron was speaking a day ahead of the G20 summit in Brisbane, Australia, where he has said he will warn President Vladimir Putin not to drag the world into a new Cold War.
Some 38 Australians were among the victims of the MH17 airline crash over Ukraine, and the country's Prime Minister Tony Abbott - who is hosting the Brisbane gathering - left no doubt that he blames Russia for the tragedy.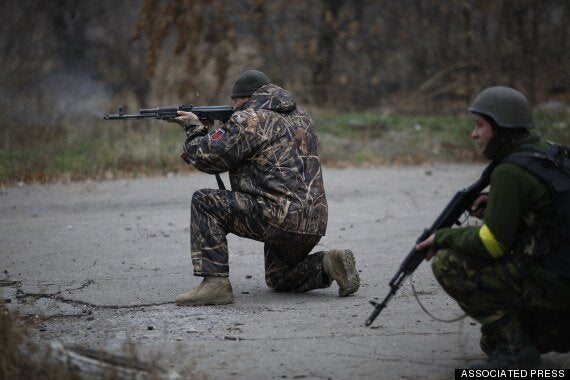 Ukrainian volunteer fighters shoot in the village of Peski near Donetsk, eastern Ukraine
He accused Putin, who arrives in Australia this evening for the gathering of leaders of the world's 20 leading powers, of seeking to restore "the lost glories of tsarism or the old Soviet Union".
The shooting down of the Malaysian airliner in July was part of a "regrettable pattern" which has seen Russia become more assertive militarily even as its economy declines, said the Australian PM.
In the run-up to the G20 summit, Australia's media has voiced concern about Putin's deployment of a naval task force to the Coral Sea, off Australia's eastern coast, which has been widely viewed as an attempt at intimidation.
Concerns are likely to be expressed by several G20 leaders over apparent breaches of the peace agreement reached by Russia and Ukraine in Minsk in September. Cameron is expected to raise the issue directly with Putin in a "brush-by" on the fringe of the summit on Saturday evening.
Standing alongside Abbott at a press conference in Canberra, Cameron said: "Russian action in Ukraine is unacceptable. We have to be clear about what we are dealing with. It is a large state bullying a smaller state in Europe."
In an apparent reference to the build-up to the Second World War, the PM added: "We have seen the consequences of that in the past and we should learn the lessons of history and make sure we don't let it happen again."
Cameron made clear that there was scope for economic sanctions imposed by the EU on Russia following its effective annexation of Crimea to be further tightened.
"I think we should use these sanctions in response to Russian actions," the Prime Minister said. "If Russia takes a positive approach toward Ukraine's freedom and responsibility we could see those sanctions removed.
"If Russia continues to make matters worse, we could see those sanctions increase. It's as simple as that."
He added: "I don't think there is a military solution to this, but I think the sanctions are important and I think the sanctions have had some effect - you can see that in what has happened to the Russian rouble and the Russian stock market and the difficulty Russian banks have accessing finance."
Abbott said that, while investigations continue into the MH17 disaster, "it is our clear understanding on the evidence so far that clearly this was shot down by Russian-backed rebels, most likely using Russian-supplied equipment, so I think there is a heavy responsibility on Russia to come clean and atone".
The Australian PM, who spoke to Putin at this week's Asia-Pacific APEC summit in Beijing, said: "One of the points that I tried to make to President Putin is that Russia would be so much more attractive if it was aspiring to be a superpower for peace and prosperity, if it was trying to be a superpower for ideas and for values instead of trying to recreate the lost glories of tsarism or the old Soviet Union."
He added: "It is part of a regrettable pattern. Whether it's the bullying of Ukraine, whether it's the increasing Russian military aircraft flying into the air space of Japan and European countries, whether it's the naval task group which is now in the South Pacific, Russia is being much more assertive than it has been for a very long time.
"Interestingly, Russia's economy is declining even as Russia's assertiveness is increasing."