Chris Paradox is what you might describe as an optimist. A one-legged, existentialist, stand-up beat poet (his description, not ours), he has a knack for turning tragedy into triumph and prides himself on finding the "gift in every situation".
Such is his ability to see the glass half full, that he spends life touring the country to inspire others and help people harness mental energy and strength, especially when times get tough.
Chris' own life has been a rollercoaster - in 2002 he traded his £70K-a-year job and big house in London's Blackheath to live under a tree in Battersea Park and sell the Big Issue. Later, just as he found his calling and started to establish himself as a performance poet, disaster struck - in 2008 he crushed his right leg on a rock in Mexico and had to have it amputated.
But while this cruel twist of fate may have sent many into despair, Chris drives forward with remarkable positivity - and has pulled through all of life's ups and downs with an ear-to-ear grin.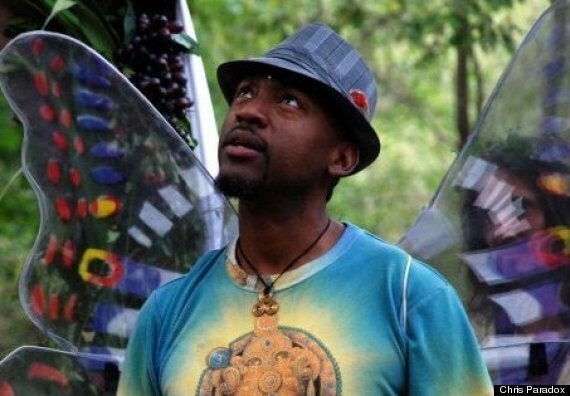 "Losing my leg was both the worst and best thing that has ever happened to me," he tells HuffPost UK Lifestyle.
Chris and his friends were in the middle of nowhere when the incident happened, they had to drive five hours to get to the nearest hospital, where his friends had to dissuade doctors from amputating his leg straight away.
Chris had no travel insurance and the hospital had run out of his blood type (O-negative), but thankfully his travel companions were able to raise £8,000 for his treatment from his friends and family, and took to the streets of Veracruz to source six pints of O-negative blood.
"They saved my life," he says. "I would never imagine that so many people would do so much for me, it kind of broke my heart open."
Chris says he experienced post-traumatic growth, which is a positive realisation after going through a difficult life experience such as an illness or an accident.
For Chris the physical adjustment to a below the knee amputation is relatively straightforward: "I can do most of what I used to do before - cycling, hiking, dancing. Sometimes I get sores on my residual limb, then I might have to lay down or sit down for a day."
"The psychological adjustment is usually the problem for people, but as I'd already had a strong mental realisation - that it isn't what happens to you, but how you react - I returned to London laughing and joking."
Chris is inspired by Victor Frankl, a legendary neurologist and holocaust survivor, who offers ground-breaking insight to the human condition in his book 'Man's Search for Meaning'.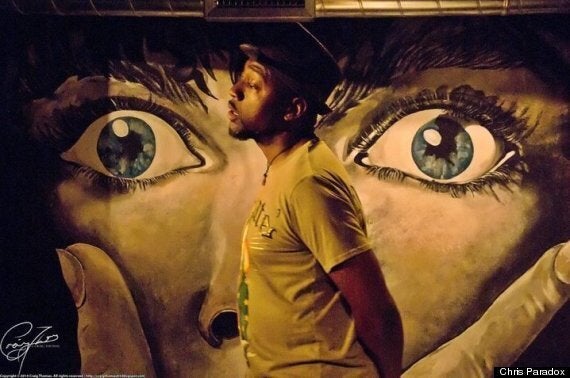 The impact of his positive attitude soon started to impact others. "When I got home I had a huge healing with my mum to whom I'd been estranged for years. She was amazed by how well I was coping with the situation. It was as if a veil fell from her eyes and she was proud of me for first time."
He adds: "People say they'd give their right arm for something so important... well I gave my right leg and I got the best end of the deal."
Chris and his mum became estranged in 2002, after he moved into Battersea Park to live under a tree. She couldn't understand his decision to 'give it all up', neither could his then-wife or his colleagues ("they thought I was crazy").
On paper Chris' life was everything he'd ever wanted. He had a successful, well-paid career in media buying; he was happily married; he had a beautiful home in South London.
But one day he realised that his seemingly perfect life just wasn't enough.
"It was a crazy decision and it's hard for me to say what the mental process was," he says. "What lead me to the tree was a determination to find out the answer to the big questions: Why am I here? Why are any of us here?"
"I've always been interested in the big questions," he adds.
"I was scared to start with, but when I woke up on the first morning and heard the birds singing, I knew I'd made the right choice."
Chris started selling Big Issue magazine - making around £60 per hour, he says - and after a few months he turned his hand to poetry.
He used to hand people his poems in the park or when he sold them a magazine. Then one day someone at the Big Issue suggested he try performance poetry.
"I broke down in tears the first time I did it," he says. "It may have happened quite late in my life, but I feel like I was born to do it."
His topics cover anything from existential philosophy and politics (although he doesn't believe in party politics) to exploring and posing questions around the human journey.
"Everything in my life has been paradoxical," he tells HuffPost UK Lifestyle. "Moving into Battersea Park was the dumbest and smartest thing I've ever done, while losing my leg was the worst and best thing that ever happened to me."
These are lessons that thread through his work as an 'Inspiration Engineer', where he runs seminars to inspire others "to find the gift in every situation".
"After everything I've been through in my life, I've made it my mission to help others. For some reason my life has taken this path and given me the opportunity to learn and I feel compelled to share that."