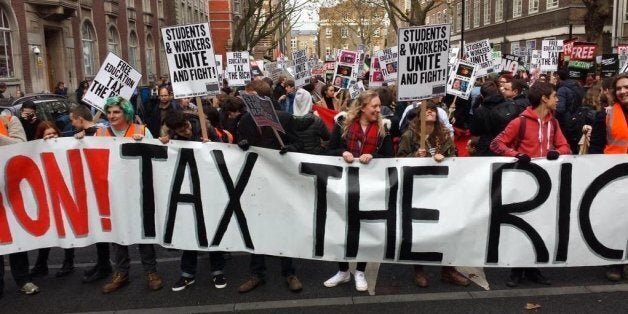 Thousands of students took to the streets of London on Wednesday demanding the government provides free education.
The campaign has been organised by the National Campaign Against Fees and Cuts (NCAFC) working in coalition with other student groups and is part of a three day series of action and walkouts.
The organisers say it is set to be the biggest student mobilisation since 2010 under the banner of free education - where 153 arrests were made after the demo turned violent.
Delegations have come from at least 40 cities all over the country from Aberdeen to Bristol, Canterbury to Glasgow. A full list can be viewed on anticuts.com.
The demonstration will kick off at 12pm on Malet Street and culminate with speeches from various figures outside Westminster.
Speaking to HuffPost UK, Fiona Edwards, an organiser with the Student Assembly Against Austerity said: "I'm expecting several thousand people, we've over 50 campus across the country mobilising, with some sending 200 students. The weather looks as though it will be fine too, which helps.
"We have speakers including Caroline Lucas MP and Jeremy Corbyn MP, which is great because while quite a few MPs betrayed us in 2010, we can see support from across the House of Commons.
"Students who have been mobilising and students from other movements will be speaking too."
Popular in the Community