George Osborne has quietly dropped his legal fight against the EU's bank bonus cap while attention is diverted on the Rochester by-election.
The Chancellor confirmed his politically embarassing climbdown in a letter to Bank of England governor Mark Carney, in which he wrote: "It now looks clear that there are minimal prospects for success with our legal challenge, so we will no longer pursue it."
Osborne previously launched the legal challenge as he argued that the bonus cap would damage the competitiveness of Britain's financial system.
Jaaskinen said that EU legislation limiting the ratio of bonuses at the same level as bankers' salary, or twice that with shareholder approval, is "valid".
He also said the UK Treasury's pleas "should be rejected" and that the ECJ should dismiss Osborne's legal challenge.
Osborne remained bullish, despite having to drop a legal challenge on which he has spent over £20,000 of public money, telling Carney: "But that should not stop us pursuing our objective of ensuring a system of remuneration that encourages responsibility instead of undermining it."
Ed Balls, Labour's Shadow Chancellor, said: "This is a humiliating climbdown by George Osborne, which he has tried to sneak out under the cover of the Rochester and Strood by-election.
"The Chancellor revealed his true priorities when he decided a year ago to spend taxpayers' money fighting a bank bonus cap while working families face a cost-of-living crisis. He should tell taxpayers how much money he has now wasted on this challenge, which we warned him against.
"It shouldn't have taken the EU to act to rein in excessive bonuses, but George Osborne has totally failed to act here in Britain."
See also:

George Osborne once threatened to cap bankers' bonuses at just £2,000 in cash and railed at their "unacceptable" remuneration

What happened to that Osborne?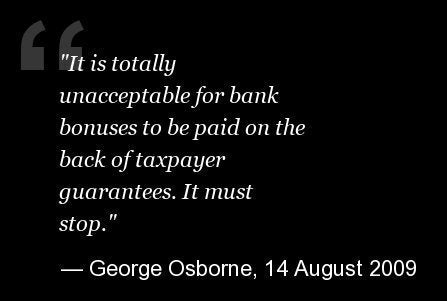 George Osborne Vs Bank Bonuses