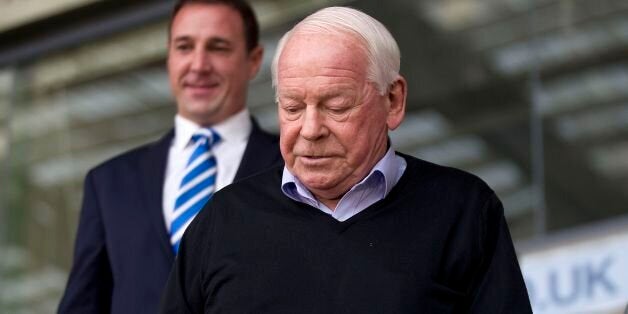 Dave Whelan, the multimillionaire owner of Wigan Athletic Football Club, has given a questionable apology after being accused of anti-Semitism while attempting to defend the appointment of Malky Mackay as manager.
Whelan sparked a furious backlash this week after justifying his decision to hire Mackay - himself under investigation for sending racist and anti-Semitic text messages - by making controversial comments about Jewish and Chinese people that were described as "offensive" by West Ham owner David Gold.
While talking about the club's new manager, Whelan reportedly told the Guardian on Thursday: "Jewish people chase money more than everybody else" and used the term "chink" to refer to Chinese people - a word also used in one of the text messages revealed to have been sent by Mackay.
Now, in an eyebrow-raising apology, Whelan has used the classic defence against allegations of racism of "some of my best friends are Jewish and Chinese."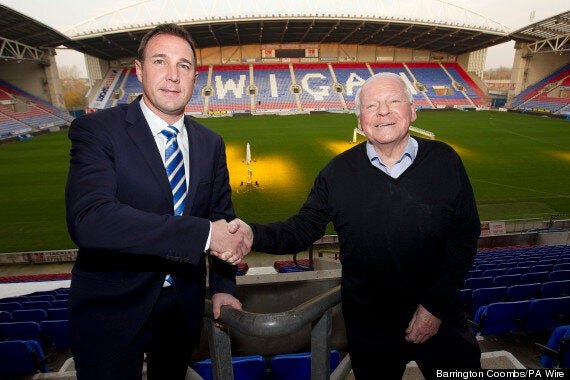 Wigan Athletic Chairman Dave Whelan with new manager Malky Mackay (left) following a press conference at the DW Stadium, Wigan
But in his "apology", Whelan then managed to reiterate the views he was supposed to be apologising for.
"If somebody says to a Chinaman, 'you're a chink', would he be upset about it? I don't know really," he said. "If he was upset, I would say I am very sorry, I won't call you that again.
"I would never call a Chinaman a 'chink' personally," he said. "I don't use that kind of language, but other people do and you do hear it used.
"Everybody will say that, that they have heard that word used. It's not a word I would use anywhere in the world."
"There are all kinds of names given to people, given to the English, to the Scottish, to the Welsh, to the Irish, to the Chinese," he said.
He added: "If any Englishman said he has never called a Chinaman a chink he is lying. There is nothing bad about doing that. It is like calling the British Brits, or the Irish Paddies."
Later in an interview with Sky Sports News, Whelan apologised to anyone he had offended and claimed the reported remarks "may have been a misquote".
Referring to his Jewish comments, he added: "I have got thousands of Jewish friends, I would never want to offend one of my Jewish pals.
"All I was trying to say was that Jewish people are very similar to the English people in the desire to work hard and get money. I didn't think that I did anything wrong in that."
"I did not mean to insult any of my Jewish friends or any of the Jewish people."
He also qualified his comments, by claiming: "If those Jewish people are offended by what I said then I apologise immediately."
"If anyone takes offence at anything I've said, please accept my sincerest apology. It's either a misquote or on that day I must have done 50 interviews.
"I've got loads of Chinese friends and I would never insult the Chinese.
"They take that name a bit more serious and they get upset a lot more than the English or the British people would if they call us names, which they do, and we take it and it doesn't bother us. But I understand the Chinese and their point of view completely."
TalkSport presenter Alan Brazil, who notoriously came under fire for his comments following the death Robin Williams, sparked anger this morning after weighing into the row.
The controversial presenter, who previously said he had no "sympathy" for Williams after he committed suicide, made comments that suggested Whelan should be excused from his comments due to his age.
The people of Twitter, however, disagreed and also accused Brazil of racism.
Meanwhile, Steve Bruce, the Hull City manager who twice worked under Whelan at Wigan, has defended his former employer.
"I know him very, very well," said Bruce. "There's no racism in him at all.
But Whelan's words were quickly criticised, notably by West Ham co-chairman David Gold, who told BBC 5 Live, "It's undeniable." Gold admitted to knowing Whelan for many years but added that this was the first hint of anti-Semitic feeling he'd detected from the 77-year-old.
Gold, who is Jewish, said: "Maybe its words that have come out that that he will now subsequently regret. I'm saddened by the words. I hope that in some way he retracts this because it is damaging relationships between him and many other people."
Simon Johnson, a former FA and Premier League executive, who is now chief executive at the Jewish Leadership Council, said on Twitter: "I call on Dave Whelan to withdraw and apologise for his use of disgraceful anti-Semitic language."
Anti-racism campaigner Kick It Out has now questioned whether Whelan is a "fit and proper person" to run a football club.
"The remarks act as another example of the culture which continues to exist within football, and further proves that some in positions of power seem comfortable sharing those views either privately or publicly. These comments must not go unchallenged and have to be investigated by The FA."
Mackay is currently under investigation by the Football Association over allegations of sending racist and anti-Semitic text messages to Cardiff's former head of recruitment Iain Moody whilst manager at the club.
The Scot's appointment by Wigan on Wednesday led to shirt sponsor Premier Range ending its association with the club.
On the appointment of Mackay, Premier Range said on Wednesday: "The texts Mr Mackay has admitted to sending are wholly unacceptable – and the thoughts expressed within them are a shocking reminder of a past we thought football had left behind. A team that would employ a man who expresses views such as these is not the kind of team Premier Range wish to deal with."
Popular in the Community