French politics is misogynistic, according to former first lady Valerie Trierweiler.
The one-time partner of French president Francois Hollande has written a surprise, tell-all book chronicling her seven years as his girlfriend, which ended when it was reported he was having an affair with actress Julie Gayet.
The book, Merci pour ce moment (Thank You For This Moment), is thought likely to damage Mr Hollande in the eyes of the French people with her claims that he calls the poor people "the toothless" and that he instructed her to be given high doses of tranquillisers, shortly after they had broken up, to keep her in hospital and out of his way.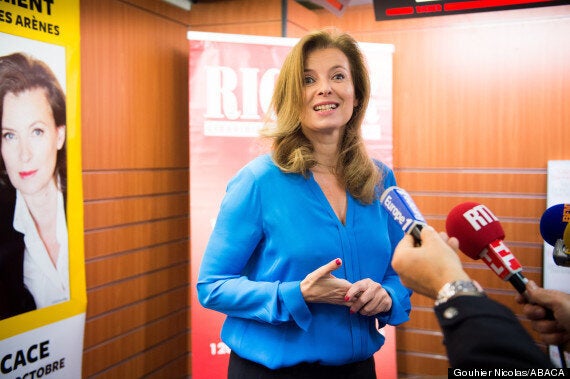 Valerie Trierweiler said French politics is misogynistic
In an interview with Kirsty Wark on Monday's BBC Newsnight, Ms Trierweiler is asked: "Is France misogyinist?"
She answers: "In the realm of politics, yes. Women in politics encounter opposition as a matter of course."
Asked why she had written the book, Ms Trierweiler, a journalist, says: "In fact I started writing it before knowing that it was going to become a book. For me writing is a form of therapy, I started writing it when I wasn't feeling terribly well and that was a good reason for writing it."
She says the title "will remain a mystery, a message that only Francois Hollande himself will understand".
And she adds: "It's not a personal attack on Hollande at all, it is the story of our relationship, there are good moments and bad moments I describe in it."
Asked about the tranquillisers, she says: "I only know that he told me to take the medicines the next day and they were a higher dose than usual."
Wark says: "You called him king of the double speak with ambiguity and perpetual lies. So what kind of man was that?"
She answers: "Unfortunately, these are the characteristics of lots of politicians. These are the mysteries of love. I was in love with him."
Asked if he really called the poor "the toothless", she says "of course".
She adds: "This book wasn't aimed at destroying him; its aim was to help me rebuild my own life. I've also said in the book that he is exceptional at times, abroad he comes across very well for instance. I think the book will be an electric shock for him."
Asked if she was among the 65% of French people who think Mr Hollande should quit - according to a poll in the Le Figaro newspaper - she replies: "No. Absolutely not. We must respect democracy, he was elected for a five-year term, he has two-and-a-half more years to prove himself, it's something he can do and believe he can be re-elected."