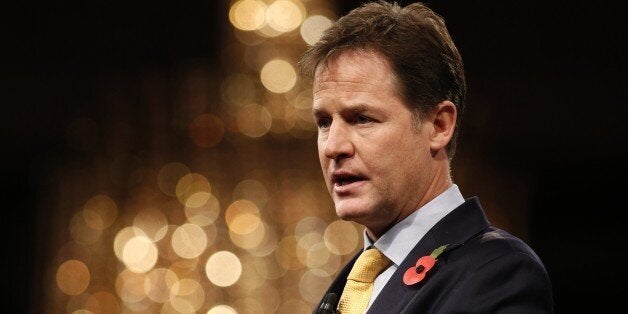 Nick Clegg has accused Emily Thornberry of being "drippingly patronising" towards voters, after she tweeted a photograph of a Rochester home covered in England flags.
The Lib Dem leader, who lives in Putney, South West London, said today: "Maybe that's what happens when you become the MP for Islington".
Senior Labour MPs moved quickly to distance themselves from Thonrberry. Rachel Reeves, the shadow work and pensions secretary, said the now ex-shadow attorney general had been "condescending and disrespectful".
The Conservatives, Ukip and the Lib Dems have also jumped at the chance to paint Labour's leadership as an out-of-touch North London elite.
However Terry Stacy, the Islington South and Finsbury Lib Dem parliamentary candidate who hopes to overturn Thornberry's 3,569 majority in 2015, was somewhat taken aback by his party leader's description of Islington politicians.
"I don't know what is behind that comment," he told The Huffington Post. "I have no idea where he was coming from. It may have been a slide-by comment, I am a bit surprised."
Stacy, who was leader of Islington council between 2008 and 2010, insisted that, unlike Thornberry, he was in touch with the seat's poorer constituents.
"You can't get more working class than me," he said. "I still live in social housing. I was probably the only council leader that did live in social housing in Islington over last 30-years."
Islington, in North London, has two parliamentary constituencies. Islington South and Finsbury and Islington North. Both held by Labour. Clegg's party used to run the council. But the party was entirely wiped out at in the 2014 local elections.
Stacy insisted that Lib Dem politicians understood the area. "Nick is no stranger to Islington in many ways," he said. "He is one of many leading Lib Dems who come to the the borough on a regular basis."
He said of Thornberry: "I found her comments disappointing and they are going to have a long term effect on people's perception of the champagne guzzling socialists who don't have to rely on local services."
Noting that his Labour opponent lived in a "posh part" of the constituency that had high levels of "hidden poverty", Stacy said she had shown a "slightly patronising and snobby attitude to some of her neighbours". He added, borrowing a phrase from David Cameron: "Too many tweets make a twat anyway."