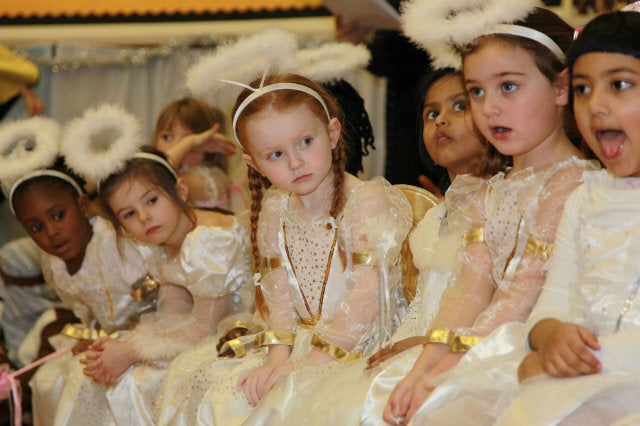 Parents are outbidding each other on eBay for children's nativity costumes because supermarkets have run out. It's not what Jesus would have wanted, is it now?
Apparently, the costumes are selling for more than three times their value because parents want their little cherubs to look the business for their school plays.
Many of the outfits have been posted by savvy (or greedy?) parents, who have snapped up bargains at supermarkets, such as Asda, Tesco and Sainsbury's, where the costumes cost around £8 each.
Supermarkets have sold out of shepherd, angel, wise men, Mary and Joseph costumes so parents have turned to eBay – and are forking out a fortune.
Used and homemade angel costumes are selling for up to an incredible £32 on eBay, whilst king costumes are going for more than £20 and shepherd costumes for up to £22.
A lot of the nativity clothes have now sold out in the supermarket stores or on their websites, so prices are rocketing on eBay.
Catherine Wallis, 37, from Cambridge, said: "We've only just been told that our son is a shepherd in the school play and most of the supermarkets have sold out of his size, so I've had to buy on eBay.
"It's very annoying when I could have bought a similar costume for less a third of the price a few weeks ago."
A spokesman for eBay said sales of nativity costumes had shot up by 102 per cent over the last fortnight on eBay.co.uk. He said sales of nativity wear were also up 57 per cent compared to this time last year and there were currently 3,000 outfits listed on the site.
He said: "This Christmas we've seen sales of nativity costumes shoot up as savvy parents have been flocking to the site en masse to get their children kitted out."
A spokesman for Asda said there has been a 40 per cent increase in sales of single tea towels and its multi-buy five pack tea towels, which the supermarket has attributed to mothers making homemade shepherd headdresses.