A Daily Mail columnist has leapt into the Jack Monroe Twitter row by launching an indignant attack on the austerity food blogger. Jack Monroe came under fire after for her comments tweeted under the hashtag #CameronMustGo
Vine then accused the 26-year-old of using her own experiences as a single mother on benefits as outlined in her blog – A Girl Called Jack – to conjure up "misty eyed" passages which helped secure her Penguin book deal and Guardian column.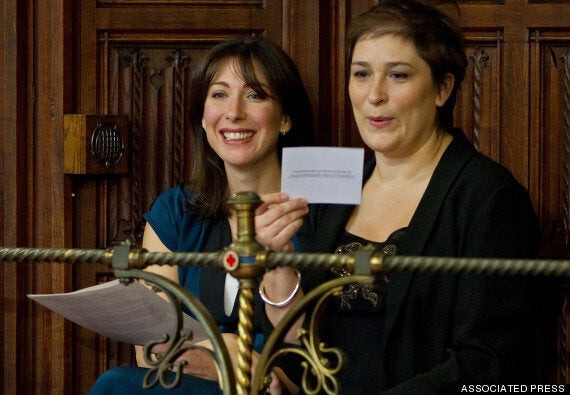 Daily Mail columnist (pictured here with Samantha Cameron) has leapt to the PM's defence, branding Monroe 'revolting'
Vine compared her own "financially and emotionally stable" decision to have her first child at the age of 34 to Monroe's decision to do so in her early 20s.
She then addressed Monroe's sexuality: "To readers wondering how, as a lesbian, she got pregnant in the first place, her son was the result of a relationship with a man, shortly after which she realised she was attracted to women. Born Melissa, in 2012 she changed her name to Jack.
"No one forced her to have a child. Indeed, if she was in anyway uncertain of her sexual orientation, arguably she should have taken greater precautions. But is seems that Ms Monroe isn't one for assuming responsibility for her actions."
Monroe herself on Tuesday morning responded to Vine's column by branding it: "Homophobic, transphobic, deadnaming, ignorant, and generally ghastly lies."
Comedian Sue Perkins also voiced her dismay at the piece, in a tweet later deleted, which read: "Unbelievable. UNBELIEVABLE, spitting tacks…"
Labour MP Chris Bryant has also criticised the piece, describing Vine's use of the word "arguably" in reference to her belief Monroe "should have taken greater precautions" as "the shabbiest element of this."
Monroe had faced an onslaught of vile abuse on Twitter, ranging from death threats aimed at herself and her young son, to calls for her to be axed from her contracts with Sainsbury's and the Guardian.
HuffPost UK has sought comment from the Daily Mail.