Asda has been exposed as the supermarket with the highest proportion of chickens contaminated with a deadly food poisoning bacterium, it has emerged.
A report from the Food Standards Agency (FSA) said the cumulative results from the first two quarters of its year-long survey of fresh chickens found 70% tested positive for the presence of campylobacter, up from 59% in August.
Campylobacter contamination of fresh shop-bought chickens has significantly increased since August, with every major retailer failing to meet targets to reduce the food poisoning bug, results show. Campylobacter contamination can cause intestinal infections
Almost a fifth of all chickens (18%) tested positive for the bug above the highest level of contamination, or 1,000 colony forming units per gram (cfu/g), and 6% of packaging tested positive - up from 4% in August.
The FSA also named rates among retailers for the first time, revealing that Asda sold the highest percentage of chickens contaminated with campylobacter at 78%, with 28% showing the bug above the highest level of contamination and 12% of packaging testing positive.
Almost three-quarters of chickens (73%) sold by the Co-operative tested positive, followed by Morrisons, Sainsbury's and Waitrose (69%), Marks & Spencer (67%) and Tesco (64%).
Individual figures for the discounters Aldi, Lidl and Iceland were not reported because their market share was based on 2010 figures and deemed too small, but the overall rate of campylobacter contamination among all retailers other than the major supermarkets was 76%.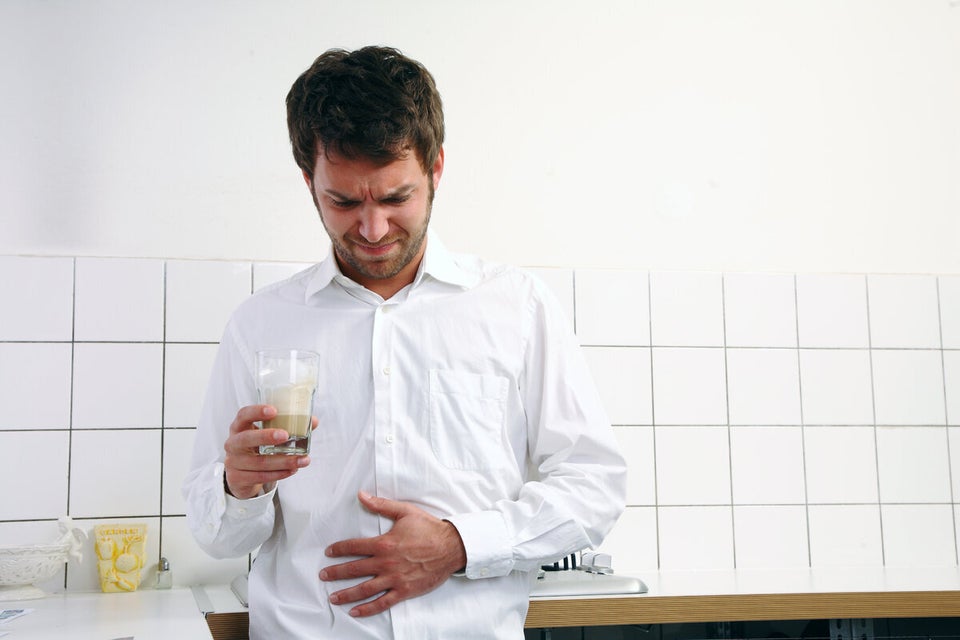 How To Avoid Food Poisoning
The FSA said Tesco was the only major retailer which had a lower incidence of chicken contaminated with campylobacter at the highest level compared with the industry average.
Asda was the only major retailer with a higher incidence of contaminated chicken.
However, the FSA said the results suggested that none of the retailers was achieving the joint industry end-of-production target for reducing campylobacter.
It said the overall increase in contamination from the first quarter was most likely due to the second quarter's samples being taken during the summer months, when an increase in campylobacter was often seen because of the warmer weather.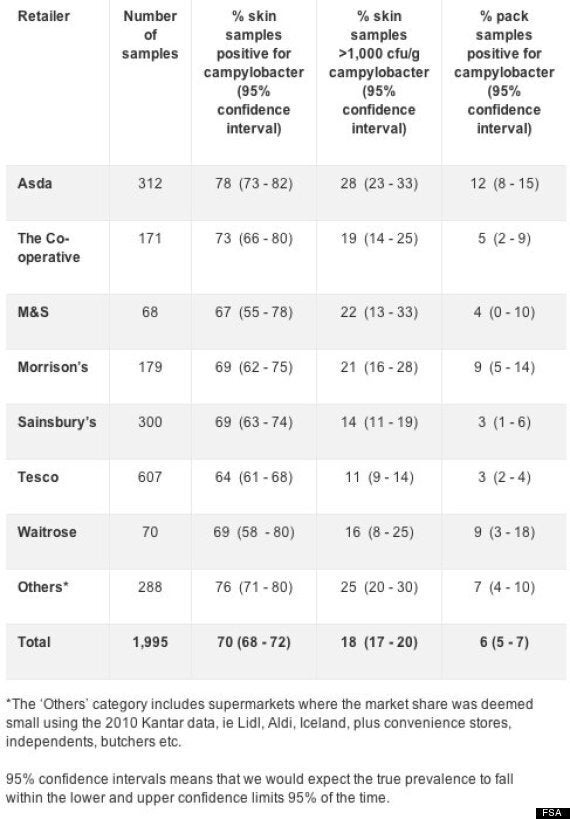 The FSA published its results on Thursday
The 12-month survey, running from February 2014 to February 2015, will test 4,000 samples of whole chickens bought from UK retail outlets and smaller independent stores and butchers.
Campylobacter is killed by thorough cooking and can be limited by careful hygiene but it is the most common form of food poisoning in the UK, affecting an estimated 280,000 people a year, with poultry the source of the majority of these cases. It can be fatal among very young children, elderly and immunosuppressed individuals.
FSA director of policy Steve Wearne said: "These results show that the food industry, especially retailers, need to do more to reduce the amount of campylobacter on fresh chickens.
"Although we are only halfway through the survey, 18% of birds tested had campylobacter over 1000 cfu/g, the highest level of contamination, and more than 70% of birds had some campylobacter on them.
"This shows there is a long way to go before consumers are protected from this bug.
"If chicken is cooked thoroughly and preparation guidelines are properly followed, the risk to the public is extremely low.
"There are signs that some retailers are starting to step up to their responsibilities. When more do, we will see the sustained improvements that will help prevent many of their customers getting ill."
Retailers have rushed to announce measures to limit the bug in recent weeks, with the Co-operative and M&S introducing "roast in the bag" chickens to minimise handling at home.
Asda and its supplier Faccenda said they had committed to full-scale trials of new steam technology, although the FSA said any recent interventions would not yet be reflected in the survey results.
The British Poultry Council said today's figures showed that all producers and retailers had campylobacter levels in the same range.
It said: "This reinforces how universal and challenging the issue is and the complex nature of campylobacter. This data for the first half of 2014 reflects the historical trend of campylobacter peaking in the summer months, and we look forward to seeing the results from future surveys.
"It is right that consumers have plenty of information on which to base their buying decisions, be that on safety, welfare, convenience, or price.
"Campylobacter is not a new phenomenon and research into the bacteria has been ongoing for decades across the globe. We have made significant improvements in detection methods and diagnostics in recent years which will aid our continuing research and measuring the effects of any potential intervention."
The British Retail Consortium's director of food and sustainability, Andrew Opie, said: "Today's figures are an important reminder that we have not yet found a way to prevent the presence of campylobacter in raw chicken and supermarkets are working even harder to find solutions to help consumers such as leak-proof packaging for all raw chicken and new roast-in-the-bag products - this is our top priority for food safety.
"Retailers, farmers and producers have been working with the FSA and the Department for Environment, Food and Rural Affairs for many years as part of the joint government and industry campylobacter working group and millions have been invested into researching solutions for eradicating the bacteria.
"We are committed to continuing the search for a solution to campylobacter and we support the work of the FSA to get clear advice to consumers about proper cooking and kitchen hygiene.
"There has been concern that implementing a solution to prevent campylobacter will mean the cost of chicken increases but we believe any increase should be small and in our competitive market retailers will work with their suppliers to do everything they can to avoid passing this on to consumers."
But the consumer group Which? said supermarket bosses should "hang their heads in shame".
Which? executive director Richard Lloyd said: "These results are a damning indictment of supermarkets and consumers will be rightly shocked at the failure of trusted household brands to stem the tide of increasingly high levels of campylobacter.
"It's now vital that the industry cleans up its act and works hard to restore consumer confidence. We want to see supermarkets not only publishing effective plans that tackle these scandalously high levels but also demonstrate they're taking real action to make chicken safe."
An Asda spokeswoman said: "We take campylobacter seriously and it goes without saying that we're disappointed with these findings. There is no 'silver bullet' to tackle this issue, but, along with other retailers, we're working hard to find a solution.
"We welcome the transparency of the FSA results and we are committed to food safety. We have led the industry in packaging innovation and were the first supermarket to launch roast-in-the-bag chicken, removing the need to handle raw meat.
"And we continue to work with our suppliers to ensure that we are doing everything we can to reduce the chances of our customers coming into contact with campylobacter, including investing in trialling a new procedure, SonoSteam, which, if successful, we will roll out across our suppliers.
"We also continue to offer shoppers helpful advice on how to safely prepare and cook chicken, which will kill off any trace of the bug."
Shadow food and farming minister Huw Irranca-Davies said: "Consumers will rightly expect that all retailers take this issue extremely seriously and put in place robust measures to tackle the industry-wide challenge of reducing levels of campylobacter in chickens.
"That's why the Labour Party welcomes the FSA's decision to publish the delayed results from its survey of campylobacter on shop-bought chicken, including naming retailers alongside campylobacter levels.
"After the horsemeat scandal and the recent allegations of hygiene failings in the poultry industry, the Government must show leadership and restore confidence in the food sector. The Government must ensure that a transparent FSA puts the consumer first and is able to challenge the industry to improve standards."