Tis the season to be jolly party.
With Chrimbo party season in full swing, we've pulled together some top tips so that you and your work pals can get crunk, shake some booty and avoid making complete arses of yourselves.
Nobody wants to be the 'talk of the office' now, do they?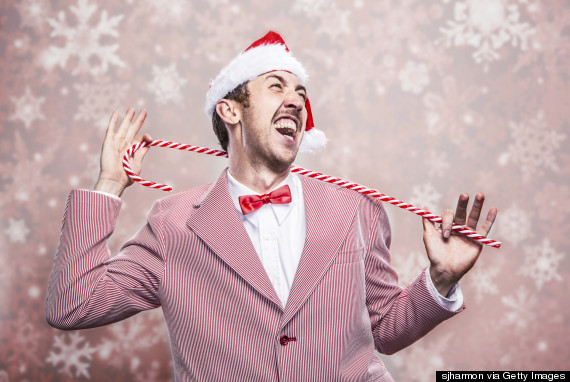 SEE ALSO:

From Fairy Lights To East 17, These Are The Things That Get Us In The Christmas Spirit

Christmas Jumpers For Men And Women From ASOS, River Island, Topshop, Ted Baker And More
1) Fancy dress is overrated.
Unless you want to end up face down on the floor because a stick-on Pavarotti belly made you lose your balance and fall off the bar counter...
Yes, it happens.
2) Nervous? Have a tipple beforehand.
Just don't get legless, as that's when knickers go on display. And nobody wants that.
3) Don't be a party pooper.
Leave that grumpy face at home.
4) Love to dance? That's fine.
Show 'em what you got.
5) Dress code = anything but 'sexy santa'
No matter how sexy you think you look, sometimes it's just not okay.
6) NEVER snog your colleague(s).
Unless you want to feel like this the next day...
7) Stilettos? Meh.
As much as we love a sky scraper heel, sometimes there are stairs and things.
You're totes going to fall.
8) Don't eat too much Christmas dinner beforehand.
Unless you want to be slumped in your chair and catching forty winks by 9pm.
9) DO eat enough to soak up the alcohol
Vom-ing 'cause you're too crunk isn't cool.
10) Don't insult people.
Or gossip. Or do cartwheels. Or cry.
11) Don't be 'fashionably late'
If the booze is on the house then you definitely don't want to miss out on that. Do you?