Ed Balls has revealed he is more daunted by a piano examination he is taking than next week's Autumn Statement, despite being criticised for his Commons performance after last year's mini-budget.
The shadow chancellor said sitting his grade four next Friday would be "far more stressful" than responding to George Osborne's economic plans.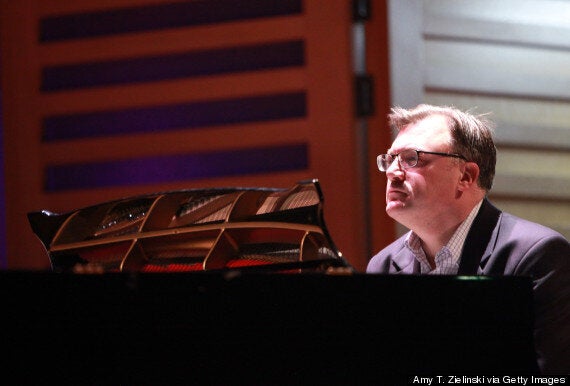 Ed Balls plays on the piano a movement from composer Robert Schumann's Kinderszenen
Mr Balls told The House magazine: "I've been practising hard. I'm doing a piece of Mozart, a Latvian folk dance and a piece by the blind jazz pianist Valerie Capers, a tribute to Billie (Holliday).
"On the Thursday you have the normal (post-Autumn Statement) media round. On the Friday, I've got my grade four piano exam.
"So I've got the stress of the Autumn Statement, but far more stressful is the piano exam a day and half after."
Mr Balls also revealed how he has lost more than one stone on the "Eric Pickles diet".
The shadow chancellor tipped the scales at his heaviest weight after returning to parliament following the summer recess and was linked to the Conservative Communities Secretary in an article about "portly" politicians.
He has taken part in the last three London marathons but is bowing out next year as the race takes place just 10 days before the May general election.
Mr Balls told the magazine: "I thought that when I started this marathon thing that I'd lose weight. But actually I never lost any weight in all three years. I was basically a Labour marathon runner in that it was a redistribution: things moved, your legs become heavier, so though you thin out a little bit, your weight never went down.
"So I didn't do the training in August like I usually would. I came back the first week of September, probably heavier than I've been. And there was a diary story in The Telegraph the next morning after Treasury Questions, which said 'have you noticed MPs are coming back looking more portly than when they went away?' And the three they highlighted were Eric Pickles, Ken Clarke and me.
"I came back and said to Yvette (Cooper): 'I've got to go on a diet'. I've now lost over a stone on 'the Pickles diet': reading that diary story every day. It motivates me to stick with it."
"My view is Eric should write a book, it could just be a compendium of pictures with a caption underneath saying 'stick with the programme'. "
Popular in the Community