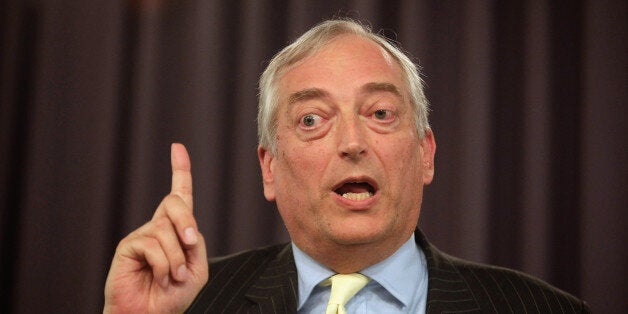 The former deputy leader of Ukip has launched a bizarre attack on the gay community, saying homosexuals sleep with up to 20,000 people in their "short, miserable lives" and that they are to blame for AIDS.
Lord Christopher Monckton - who joined Ukip in 2009 as the party's deputy leader and President in Scotland - said that for the LGBT community the "wages of promiscuity is deadly disease."
"It is now at last admitted, even in official circles, that HIV is chiefly a disease of homosexuals and drug-abusers and that a far greater percentage of homosexuals than heterosexuals do drugs," he wrote on the right-wing site WorldNetDaily.
His vicious rant was based on applauding an Australian councilwoman for "standing up to the LGBT lobby". Rosalie Crestani has "forbidden" the "promotion of homosexuality" after being "shocked by the official mortality figures for homosexuals" and was praised by Monckton.
"She proposes to circulate a memorandum to all councillors and staff giving them detailed statistics for promiscuity, prevalence of HIV and many other sexually transmitted diseases, and for the consequently short, miserable lives and high death rate of homosexuals," he said.
Monckton, who served as science adviser to Prime Minister Margaret Thatcher, also made his feelings about gay marriage clear, querying: "Why have homosexuals – most of whose partners last as little as a few hours – been so keen to promote the lifetime promises of so-called 'gay' so-called 'marriage'?
"The reason, of course, is that they cannot produce children, so they want to adopt them. Is this fair to the children? The answer is no," he said.
In his article, Monckton refused to refer to the gay community as LGBT instead referring to it as "QWERTYUIOPASDFGHJKLZXCVBNM", or "QWERTYs" - referring to the keyboard layout of all the letters in the alphabet.
"That ought to cover every real or imaginary form of sexual deviancy they may dream up," he said.
According to the former Ukipper, "official survey after official survey had shown that homosexuals had an average of 500-1,000 partners in their sexually active lifetime, and that some had as many as 20,000.
"One wonders how they found time for anything else."
He has a point - if this were actually true it would mean that in order to sleep with 20,000 people a year, a gay man would need to sleep with 322 people a year from the age of 18 until they were 80. Which sounds exhausting.
But this number wouldn't work if you take Monckton's claim that gay people have a short life span into consideration.
So, for example, if a gay person were to live to just 55 and started having sex from the age of 16 they would have to have sex with 513 people a year - more than one person a day.
Monckton, who was sacked by Ukip leader Nigel Farage in November 2013 following infighting, is a hereditary peer who has been engaged in a long-running dispute for not inheriting his father's position in the House of Lords, due to the House of Lords Act imposed in 1999.
He's previously voiced his views on AIDs in a controversial 1987 article for The American Spectator, entitled "AIDS: A British View".
Here's a brief extract, where Monckton lays out his plan to tackle the disease:
"There is only one way to stop AIDS. That is to screen the entire population regularly and to quarantine all carriers of the disease for life. Every member of the population should be blood-tested every month ... all those found to be infected with the virus, even if only as carriers, should be isolated compulsorily, immediately, and permanently."
This would involve isolating between 1.5 and 3 million people in the United States and another 30,000 people in the UK.