Michael Buerk may be enjoying his time in the 'I'm A Celebrity' jungle, however his weight loss is sparking concern.
READ MORE:
The jungle diet of rice and beans - and the occasional proper meal when Kendra manages to win them - has left the newsreader looking noticeably slimmer.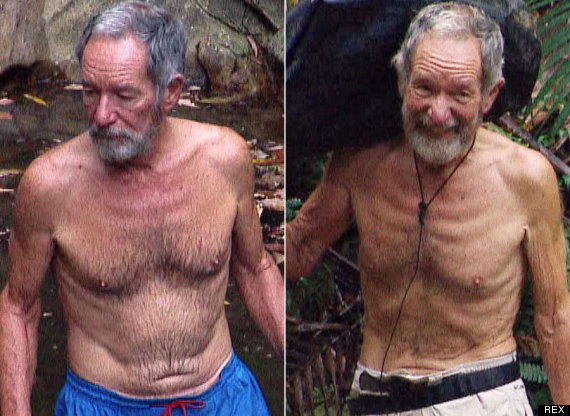 Michael's become visibly slimmer since entering the jungle
Michael's wife Christine has admitted that she's been "quite concerned", telling MailOnline: "I was quite concerned [about his weight loss]. He was quite slim when he arrived. I was trying to encourage him to build up before coming out here, which he didn't do.
"He's not got a lot of spare flesh on him, but he's in good shape. I think it's far, far healthier to be a little bit underweight that overweight.
"I was quite horrified to realise that they only get 500 calories a day in the jungle. It's not that he dislikes rice and beans, but the rations are quite low."
Christine also quashed rumours that Michael is about to quit the show, adding: "Michael isn't a quitter. I don't see him walking out. He's been in worse places. He's been shot at, he's been gassed, he's been blown up in an ammunition dump explosion, he's seen a sound guy die, he's seen a cameraman lose his arm.
"He's been in real reality situations that have been very tough. I would be really, really surprised if he broke."
At present, the celebs have been split into two teams, with only one team receiving full meals each day.
After just three days in the jungle, Gemma Collins quit the show, claiming that she was "starving".
So far, Michael has been popular with his fellow campers and earlier this week he (half-jokingly) revealed that his biggest regret is not pushing Jimmy Saville off the QE2 when he had the chance.
LIKE US ON FACEBOOK | FOLLOW US ON TWITTER