With Christmas TV ratings more competitive than ever, the BBC has released its festive schedule, hoping to live up to its promise of "world class talent, edge of your seat drama, outstanding comedy and fantastic storytelling".
You know how Christmas is full of all those treats that you don't eat the rest of the year? Well, imagine if, instead, the table was full of all the most popular things you've eaten all year, just more of it. Well, that's what the BBC has cooked up… with somebody very high up evidently posting the missive, "what's not broke, for crying out loud, don't fix."
They give you...
COMEDY
With last year's festive episode of 'Mrs Brown's Boys' proving the Christmas ratings winner, this follow-up was a shoo-in, with not one but two episodes of Agnes Brown and her comedic capers. Expect Christmas trees and burglaries.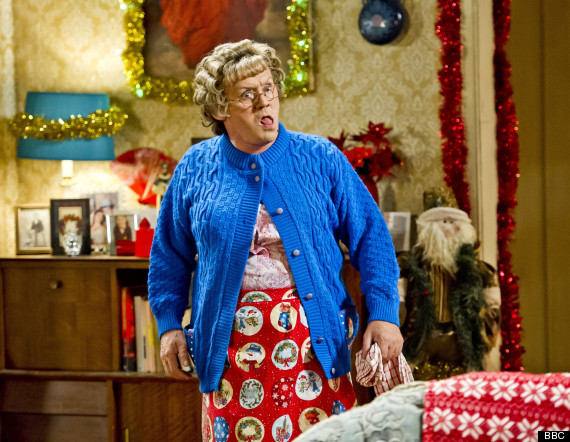 Agnes Brown is back with her boys in a two-part Christmas special
It's a festival hello from 'The Wrong Mans' as Matthew Baynton and James Corden make their Christmas debut. But it's goodbye, as Miranda Hart's alter ego signs off for good with this Christmas special, and not one proposal but two. And Michael McIntyre probably won't be splitting the comedic atom with his 'Very Christmassy Christmas Show'.
DRAMA
'Doctor Who' and 'Call the Midwife' are both being sprinkled with snow-dust for Yuletide. The former could signify another farewell, this time from Jenna Coleman, but not before she rescues the Doctor from an Arctic wasteland. The latter includes some time travel, too, as Jennifer prepares to celebrate Christmas 2005, before the inevitable flashback.
FACTUAL
The unreconstructed rev-heads have often managed to come up with something special for Christmas - the trip that finished in Bethlehem four years ago was outstanding - and this year is no exception. Perhaps not in a good way. It's the Patagonia special, to be broadcast in two parts, so it'll be interesting to see whether the Argentinians' protests en masse and Clarkson fearing for his life under his hotel bed will make it to the final edit.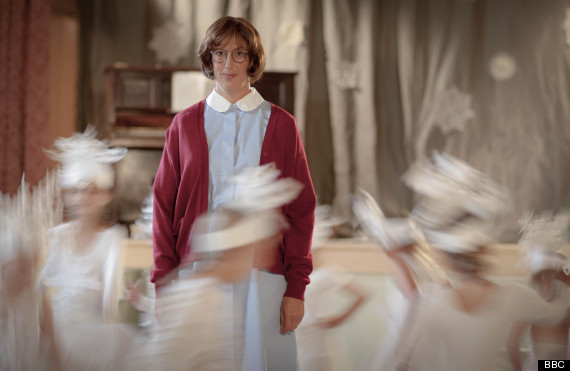 'Call the Midwife' sees Chummy (Miranda Hart) back in action
FESTIVE SPECIALS
Both 'Bake Off' and 'Strictly' are being wheeled out for Yuletide. Mary Berry and Paul Hollywood give their best tips for festive fare (didn't they do exactly the same last year?), while Sir Bruce takes another break from his retirement to host a one-off panto-themed special on the dance floor. No prizes for guessing who's the dame of the dance… Russell Grant will be joining the likes of Rachel Stevens and Chris Hollins.
Saving the Christmas schedule from a complete sense of deja vu are four stand-out items…
David Walliams' children's comedy 'The Boy in the Dress' - sort of like 'Billy Elliot', but exchanging secret ballet dancer dream for supermodel, and with a cameo appearance from Kate Moss, no less.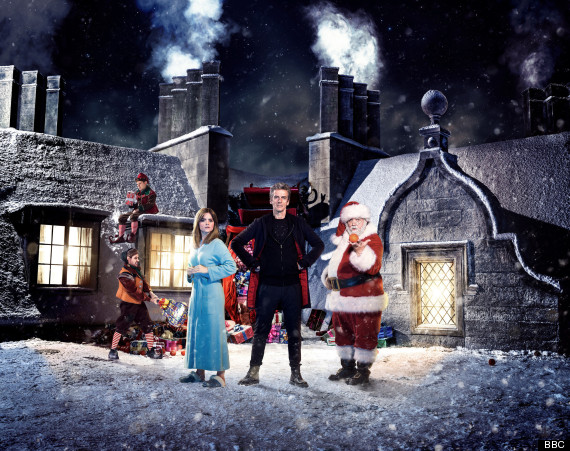 Is there a Doctor in the house this Christmas? Of course!
Roald Dahl's classic tale of 'Esio Trot' gets the benefit of, not just Richard Curtis at the helm, but Judi Dench and Dustin Hoffman starring. And it's about a tortoise.
The much-missed Rik Mayall is celebrated once more in this tribute show, packed full of other talented folk and friends paying homage to the 'Lord of Misrule'.
Finally, Harry Hill hopes to finish the year on a high after the 'X Factor' musical debacle with his acting debut. He takes the title role in 'The Incredible Adventures of Professor Branestawm' who is as eccentric as he sounds, even without Mr Hill's trademark collars.
Oh, and the 'EastEnders' lot will be trying to celebrate Christmas in the traditional way, but some long-buried dark secrets threaten to come to light. Like I said, if it's not broke…
LIKE US ON FACEBOOK | FOLLOW US ON TWITTER