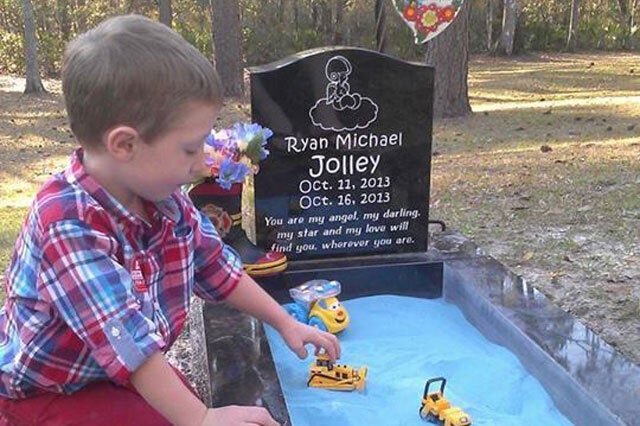 A bereaved mum has created a touching tribute to ensure her toddler son can stay connected to his baby brother who died when he was just five days old.
Ashlee Hammac, 24, was devastated by the loss of baby Ryan, so she has built a sandbox on his grave so that his older brother Tucker, 3, can spend time with him.
Last week, the mum from Lake City, Florida, shared a poignant photo on the Facebook page Sawyer's Heart, showing Tucker playing with toy cars in the blue sand by his brother's headstone.
Baby Ryan Michael Jolley was born on October 11, 2013, and passed away five days later from hypoxic-ischemic encephalopathy - a condition that occurs when there is not enough oxygen getting to the brain.
After his funeral, Ashlee decided to come up with the kind of tribute that her son Tucker could relate to.
Ashlee told People Magazine: "He always goes out there with me, and sits out there, and sings lullabies, and talks to him just like he was there.
"So I wanted it to be special for him too. His favourite thing right now is trucks."
Ashlee said Tucker often asks her if he can go to 'baby Ryan's sandbox.'
Ashlee and her family have now launched a non-profit organisation called Pages to Memories to help raise awareness of her son's condition.
Ashlee went into premature labour on the morning of October 11 after experiencing a severe migraine.
During the delivery, her placenta burst, which deprived Ryan of oxygen for several hours. After a five-day struggle, an MRI test showed that Ryan's brain had no activity.
Even though he was alive for less than a week, his death was not in vain, because his healthy little heart was donated to another baby.
Ashlee said she hopes one day to meet the mother of the child who received Ryan's heart.